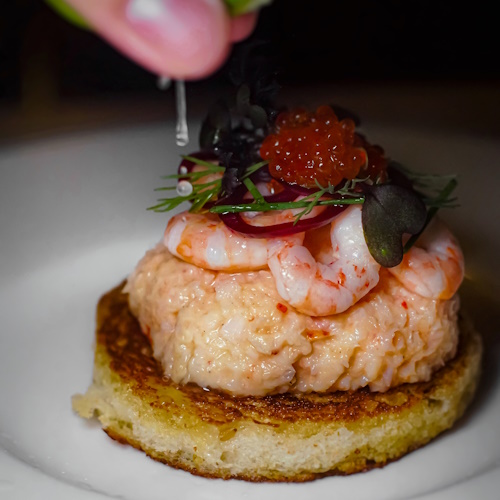 Brasserie Astoria — Bjorn Frantzen's chic new Singapore outfit exemplifies everything casual-fine dining should be
Sometimes, little discernment or foresight is needed to identify the immense potential of a new opening. To those of us living in 2023, Frantzen Group's latest local outfit, Brasserie Astoria at the Victoria Concert Hall, saunters effortlessly to a podium finish for one of this year's most anticipated openings in Singapore.
From illustrious chef Bjorn Frantzen, Brasserie Astoria's end-July unveiling in Singapore trails intimately behind recent feats at the Michelin Guide Singapore ceremony, where his local debut Restaurant Zen retained its Three-Starred glory.
Alas, the latter, swankier establishment is decidedly elaborate and unfortunately lacks accessibility, hence many hopeful eyes are trained on his sophomore. This time, a concept which promises brilliance in casual-fine dining, a somewhat nebulous category that's become progressively mired by oversaturation in recent years.
On paper, it's spiritually loyal to the original Stockholm-based establishment, except the local chapter of Brasserie Astoria was built with additional discernment with Frantzen Group's Singapore-based Executive Head Chef Tristin Farmer working closely with the kitchen.
Even though it's billed as an elevated casual dining experience, Brasserie Astoria is a grand affair at heart, as expected of an establishment situated within the portentous Victoria Concert Hall. It's a scene oozing grandeur —seemingly skewed more towards the "fine" aspect, at least for most looking in from the outside.
Reminiscent of a ballroom, the capacious dining hall glistened with the dignified glitz of the mid-century, as its punctuated with an array of dandy teaks and modish brass, while a flourish of svelte metallic lights hung from stretched ceilings.
It's in the warmth of the dim lights and plush confines of the booth seats where guests can grasp the crux of Brasserie Astoria. It's more than exclusivity or luxury. Instead, it's a sophisticated setup that strives for "hygge" — or the Danish concept of cosiness and comfort.
Quality, Reasonably
As with most cases, the price point is where the contentions come rushing in relentlessly. Make no mistake: Brasserie Astoria is certainly not one of Singapore's most affordable restaurants. But it doesn't argue that it is, either.
However, it can be reasonable when pegged against similar establishments, especially on account of splendour. Appreciate it as a levelled-up date spot straddling between laid-back casual and refined fine dining, focused on marrying accessible pricing with a premium but less abstruse style of gastronomy.
Truly, one reliable expectation for Brasserie Astoria is the kitchen's capability to elevate myriad simple dishes with a spark of refinement. One stunning example is the unassuming Garlic bread à la Astoria ($10).
Though our instincts naturally push us to underestimate the humble sourdough baguette, this inspired take is served with browned butter, shiro miso, parmesan, yuzu, roasted garlic, and herbs — for the richest flavours, silkiest butter filling, and the plushest crumb texture.
That earnest excellence comes even more effortlessly with the Butter-Fried Raraka ($36), a dish that's almost a splitting image of the beloved Rosti. Undoubtedly a hearty dish, constructed around a traditional Swedish potato pancake, potently seasoned, then piled on by roe, red onions, chives, and creme fraiche.
Brasserie Astoria's take on this proves utterly satisfying, boasting of a raucous crackle on the base while the toppings deftly soften its inherently sapid foundation — the crab-heavy dish is one that quickly fills up stomach space.
Still, signatures such as the Toast Astoria ($32) are the probable culprits to compel offering your name up to the reservation books, as it arrives lavishly embellished, adornments of prawns, Norwegian king crab, and ikura burdened upon a lone, nondescript slice of butter-fried toast.
Such a spread of luscious seafood can inevitably erupts into decadence but the ensemble was well-fettered with deft touches of contrast. As waves of oceanic umami and briny sweetness blitzed the palate, splashes of acidity discretely squeezed into the frame, ensuing from the contrasting duad of pickled red onions and wasabi aioli.
Then, The heavy Hitters
Simplicity also does not preclude theatricality: Brasserie Astoria relishes in presenting its classic steakhouse-style signatures through the time-lost art of tableside service.
Anyone longing for the lustre of flame would be appeased by the slew of the much-ordered Whiskey Flambéed Beef ($68 for Angus, $110 for Wagyu) being dazzlingly set ablaze with regularity throughout the dining hall.
Dramatic introductions notwithstanding, Brasserie Astoria's steak is excellent. The flambeed beef confidently ticks all the boxes containing traits cognate with quality steak — darlingly luscious, buttery soft, and gushing with juices upon every bite.
Simultaneously, careful finesse in handling the skillet and ingredients a la minute produces a sublimely layered sauce to finish. Mellowly acidic, lushly enriched with pepper fragrance, wonderfully vibrant from candied sweetness, and blessed with the handsome depth of whiskey. A suave classical rendition plucked out of a mid-century steakhouse.
Exceptionally inelaborate in its entirety no doubt, and may even seem larcenously simple to some. But steak is, in most contexts, a supremely safe dish — this is a dish that fits Brasserie Astoria impeccably, both in its setting and its style.
Contrastingly, one unfortunate nonperformer happened to be the Kebab Pizza (S$35) that incorporates Zen's fabulous confit duck. While remaining rather solid and showing promise together with pickled jalapenos and a decent crust, it just didn't feel as well-rounded as the other dishes.
Echoes of Restaurant Zen weren't merely confined to the pizza, especially as one dessert hearkens back to a pandemic-era incarnation of the Bukit Pasoh outfit: The Waffle Ice Cream (S$20).
Bringing back the iconic circuit breaker bestseller at Brasserie Astoria was a stroke of ingenuity. A luxe "ice-cream-and-waffle" featuring fragrant oolong ice cream and zesty raspberry jam, bookended between two slabs of airily crunchy pistachio waffles? Seems like such a natural end to the meal.
A Story of Solid Mixology
Food naturally makes up the core of this swanky outfit but the bar-side isn't neglected either. Minimalist, but with a bit of edge to it — the Nordic-influenced cocktail menu is one that's cleanly devised by the Bar Manager, Morgan.
The American-raised bar savant's resume is essentially a litany of world-renowned bars, including Asia's perpetual No. 2, Jigger & Pony. Certain mixology nous is expected, should be expected, and is realised in the simplest of drinks such as the Lagom (S$25).
Pertained with the topic of "ideal balance", a concept alluded to by its Swedish-rooted name, this esoteric mix of sherry, rhubarb, and tea-infused vodka is furtively complicated, despite an outward geniality.
Easiness is its greatest virtue, though those waves of fruit-forward comfort are buttressed by an esoteric mishmash of toasty malt and charming funk, hiding a reticent multi-dimensionality within for discerning drinkers to uncover.
More mixological gumption can be found elsewhere on Brasserie Astoria's menu, as Morgan's Morgondagg (S$28) screams an adventurous retelling of the all-too-classic Martini.
Through a briney gin base and a dill and nori infusion, it arrives with a parching bite and a profoundly rich blend of umami and grassiness — suited to palates partial to wetter and dirtier Martinis.
Without clarity, glam and glitz may be misunderstood as the crux here. But with the cocktail menu, that's yet another layer showcasing the restaurant's commitment to elegance and simplicity, while putting in subtle elevating touches.
Brasserie Astoria's raison d'etre is lucid and focused: It's a restaurant focused simply on tip-top service, taste, and ambience — with prices falling on the higher end to justify the experience.
Make your reservations here.
Brasserie Astoria (Singapore)
Website | Facebook | Instagram
Address: 11 Empress Pl, Victoria Concert Hall, Singapore 179558
Hours: (Mon–Sun) 11:45 am–2:30 pm, 6 pm–12 am
*This review was written with experience from two visits, one for an invited tasting and the other paid for by myself.