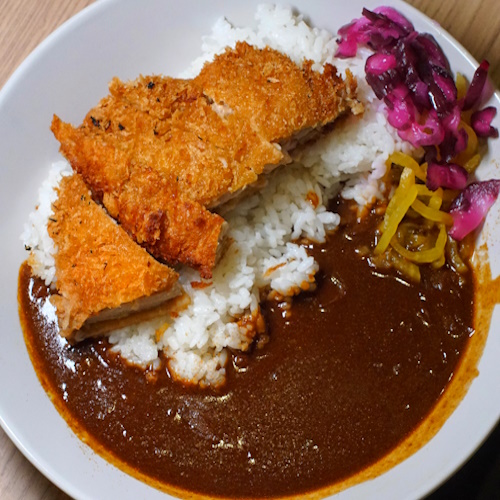 Kuro Kare is the ultimate hidden gem for affordable curry rice in Singapore
Fine dining, Japanese curry rice and Singapore Management University — what do these things have in common? In theory, these are things from separate worlds that were unlikely to cross paths, until recently, with the opening of Kuro Kare.
The casual restaurant, operating out of an unassuming unit in the basement of SMU, is a bit of a hidden gem. At least, it's a new opening that the general public would know little about, if not for social media.
However, Kuro Kare is more than meets the eye. The youthful and vibrantly furnished shop might look like a run-of-the-mill campus lunch spot but the talent behind the counter is startling — the masterminds hail from fine-dining pedigree.
Holding the reins are Aidan Low and Ho Bing Ru, who had both cut their teeth at Fleurette. The former was a co-founder of the lauded French-Fusion outfit while the latter used to command the kitchen as Fleurette's head chef.
The revelation may cause some question marks to waft above some foodies' heads. After all, does the fine-dining nous gained from Fleurette fluently translate to the ability to manage Kuro Kare's fast, mass-focused operation?
The best Affordable Japanese Curry Rice in Singapore?
The straight answer is "yes". Kuro Kare might be one of the most promising debutants who managed to balance quality, mainstream appeal, and affordability all in one. Already affordable for the public, SMU students even get an additional $2 discount.
Sure, there are no culinary astonishments concealed within those plates of curry, waiting to be uncovered. Ultimately though, the respect for standards is markedly apparent in the 36-hours-cooked Japanese curry.
That respect for standards can be best tasted in Kuro Kare's Melty Beef ($16.90), where the chunks of Black Angus shortribs are drenched in a deluge of russet-hued gravy, glossy with a faintly perceptible orange sheen.
In a simple dish such as this, the curry shoulders a heavy burden in propelling the entire ensemble. Unsurprisingly, Kuro Kare's hero component dazzled with both texture and flavour.
Every mouth was creamy and silky but not overly thick, while its richness was lush with alternating notes of umami, vegetable-tinged sweetness, and a moderate sizzle to give it a little spark.
At the same time, those beef chunks were also tender and not at all fibrous. That said, I'm not sure the mouthfeel involved much "melting", despite the eatery's naming allusions.
The good streak continued on a return visit that focused on the fried chicken katsu in the Kuro Fried Chicken ($11.90), the second cheapest item on the menu after the Keeping Up with the Kroquettes ($6.90).
There's no gulf in quality from the pricier slow-cooked items on Kuro Kare's menu, as the fried chicken was served clad in a textbook crunchy batter, lined with a light film of marinade. Very solid fried chicken that went perfectly with the moreish curry.
Besides the actual orders, a slew of pickles have also been put out at the side to accommodate for diners who sought a touch of acidity. At the same time, two different chilli sauces are set up at each table for varying levels of heat and sharpness to cut through the richness.
Both visits to Kuro Kare had me leaving very satisfied — it's a tight-knit operation that's simple but also efficacious in providing customers with what the team envisions.
Consistency —at least across two visits— can be seen and the service always comes with a smile. What more could I ask for from an affordable casual diner like this?
Especially one injecting some much-needed quality into a niche like Japanese curry rice, which doesn't have the most diverse pool of competitors in Singapore.
Kuro Kare
Address: 80 Stamford Road #B1-65 SMU School of Information Systems, Singapore 178902
Hours: (Mon–Fri) 11am–8pm