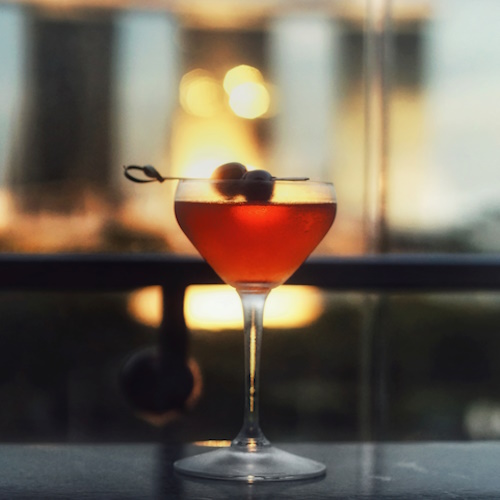 The Best Bars in Singapore, According to A Functioning Alcoholic
Unusually small. Dwarfed by adjoining countries. Devoid of resources. The Lion City is an irrefragable state-building miracle and a country with many unexpected virtues. Even after you understand all its feats, Singapore's flourishing cocktail bar subculture would probably still jump out to the layperson.
As a little dot, it wields a disproportionately robust influence within the interconnected global bar scene — somehow claiming 8 positions on the coveted World's 50 Best Bars' top 100 rankings in 2022.
Compounded with the myriad of hidden gems and discreet stalwarts amongst Singapore's best bars, divining your most compatible visits eventually warp into a torturous search for indecisive bon vivants.
Be it spiffy classics bars, swanky rooftop bars, irreverent dive bars, or avant-garde darlings — this extensive list will help you navigate the best bars in Singapore, at least according to a self-styled functioning alcoholic.
The Best Classic-Style Bars in Singapore
For me, these establishments feel closest to the archetype of fancy cocktail bars that are etched into most people's minds. It's a collection of well-oiled classic or hotel bars that never fail to serve guests the most luxuriating experiences, built on unrivalled hospitality and pristine bartending
Respected for its sleek Japanese-style bartending and insistence on technical perfection, Jigger & Pony doesn't just have credentials as one of the best bars in Singapore. In fact, the high-fliers have been conferred the title of second-best bar in Asia three years in a row by Asia's 50 Best Bars.
Originally known for adroitly refined classics such as the beautifully balanced Negronis ($18 happy hour), recent years have seen the legendary cocktail bar utilise its pristine understanding of classics to craft enthralling originals.
Its impressive 10th-anniversary menu explores all facets of mixology, upgrading classics like the Dirty Martini with miso-mascarpone-stuffed olives to make the Jigger Martini ($28) while also flirting with future-forward favourites, including an addictive Ugly Tomato ($28) that brims with refreshing tomato richness.
Jigger & Pony
Reserve | Instagram | Facebook
Address: 165 Tg Pagar Rd, Amara Hotel, Singapore 088539
Hours: (Sun–Tues) 6pm–12am, (Wed–Thurs) 6pm–1am, (Fri–Sat) 6pm–2am
While Bars like Jigger & Pony instil the finesse of Japanese bartending into their entire team, Kakure operates on a rather different model — it's a one-man show where veteran Kazuhiro Chii showcases his masterful cocktail-making skills.
Located atop a Japanese Omakase joint, its bartending shows the same level of intricacy as its sushi compatriot. Even when Chii-San jazzes things up with less punctilious touches, like when he finishes the Negroni "Diablo" ($28) using charcoal-black gin — he maintains balance with the most technically sound display.
As a matter of fact, I think Martini lovers must add this to their bucket list — the affably balmy Martini ($28) is easily on par with the absolute best bars in Singapore, perhaps even better.
The Bar Kakure
Reserve | Instagram | Facebook
Address: 29 Scotts Rd, Singapore 228224
Hours: (Mon–Sat) 6pm–1am
To many, Manhattan is an institution that deserves mention when discussing the best bars in Singapore. Like a well-oiled machine, with sleekly dressed bartenders and convivial service, the spirit of New York's roaring '20s still remains, still flourishing in this stately Conrad Hotel bar.
While lush with vintage style and ambience, the libations on its "New York Personified" menu skew slightly modern. Palate pleasers can be found throughout — be it the 3000 ($26), a comforting warm drink that blends strawberry, chocolate and vanilla, the banana-enriched Peel Slowly and See ($25) or The Notorious R.B.G. ($32), a hawkish Manhattan twist inspired by the seminal American Supreme Court Justice.
Manhattan
Reserve | Instagram | Facebook
Address: 1 Cuscaden Rd, Level 2 Conrad Singapore Orchard, Singapore 249715
Hours: (Tues–Thurs) 5pm–12am, (Fri–Sat) 5pm–1am, (Sun) 12pm–3pm
Last Word is a refined, unostentatious Japanese-style bar dedicated to the art of classic cocktails. While relatively new, it was already bestowed the privilege of a No. 61 ranking in this year's Asia's 50 Best rankings.
While they do a really sumptuous rendition of their namesake, the Last Word ($27), the real show-stopper is the remarkable Bloody Mary ($27). Taking inspiration from the exalted Bar High Five from Tokyo, this lightly rich, subtly spicy, and enchantingly refreshing tipple is often cited as one of the best in Singapore.
Going even further in the quest of putting their own personal touch on classics, the happy-hour menu even lists a significantly less cloying Singapore Sling ($16) made with pineapple vinegar. Doing it cheaper –and better— two streets down from the OG? Commendably brave, if you ask me.
Last Word
Address: 8 Purvis St, #02-01, Singapore 188587
Hours: (Tues–Sun) 5pm–12am
Origin Bar is, honestly, frustratingly secluded. However, despite being sequestered in the secluded part of Orchard, the Shangri-La Singapore flagship bar more than justifies the pilgrimage with its mix of spirited service and intriguing classics-riff menu.
The menu is an anthology of drinks exploring the "origins" of our world and is teeming with deft twists and endearing garnish combos. One great example is the apple-fragrant Play Well ($25), an Old-Fashioned derivative that's topped with a jelly molded into the shape of a Lego man.
Another whimsical crowd favourite is the Star was Porn (S$27), a Pornstar Martini accompanied by a stick of white chocolate lipstick. Thought if you like it weird, it'll be folly to miss out on the Atomico (S$25), an exciting amalgam of yuzu, wasabi, sake and rum.
Origin Bar
Reserve | Instagram | Facebook
Address: 22 Orange Grove Rd, Tower Wing Lobby Shangri-La Singapore, Singapore 258350
Hours: (Tues–Sun) 5pm–1am
Shin Gi Tai
There's a certain romanticism to classic bartending and Shin Gi Tai is one of the best bars in Singapore whenever you hope to witness the highest level of craft for the classics.
It's a speakeasy capable of demonstrating that bars can astound you even without newfangled technologies like the rotovap. Without a real fleshed-out menu, Shin Gi Tai is a chiefly bespoke bar headed by Anthony Zhong, a founding alumnus of Jigger & Pony.
Negroni ($27) lovers flock here in search of Anthony's famous Negroni, purportedly made with house-blended vermouth — one crowned by many judicious industry peers as the king of Negronis in Singapore.
Shin Gi Tai
Address: 179a Telok Ayer St, #2nd Floor, Singapore 068627
Hours: (Mon–Fri) 6pm–12am
The one bar in Singapore I constantly describe as "Wong Kar Wai's wet dream", Live Twice is a dreamily voguish outfit that looks exactly like a cocktail lounge where indie film characters let their sorrows ruminate while slowly sipping on potent poison.
On that count, I'm not far off, since Live Twice is chiefly known for its fearsomely sharp Vesper ($25), a drink that suavely charms you with a dizzying warmth that makes the world seem a lot more merciful for a moment.
Most of the mixology adheres to disciplined minimalism, ensuring the drinks are kept uncluttered and spiffy. It's an establishment that marries the perfect mix of chic design and simplistic but soundly constructed tipples.
Live Twice
Reserve | Instagram | Facebook
Address: 18-20 Bukit Pasoh Rd, Singapore 089834
Hours: (Wed–Mon) 6pm–12am
Republic Bar is a hotel bar that embodies old-school charm. Truly, the Ritz-Carlton establishment is a homage to the luxurious hotel bars of yonder, complete with plush leather seats, reflective surfaces, bold retro crimson, and a stately bar centrepiece.
Tricked out in red waistcoats, the bartenders at Republic Bar serve up history — specifically, watershed cultural curiosities in the '60s. On the menu, you'll find nods to cinematic masterpieces such as Kubrick's Space Odyssey ($26) and sartorial symbols such as the Leather Jacket ($26).
Of all, the dazzling Dalgona Irish coffee, Kim Sisters ($26) is the imperative order. Crafted by Korean-born bartender Olivia Lee, the rich and dulcet treat is one of the few special coffee cocktails I would actively recommend.
Republic Bar
Address: 7 Raffles Ave., Ritz Carlton Singapore, Singapore 039799
Hours: (Sun–Thurs) 9am–12am, (Fri–Sat) 9am–1am
Gibson is the more tongue-in-cheek sibling of Jigger & Pony, found right above Live Twice and Humpback at Bukit Pasoh. Playfulness doesn't mean Gibson isn't serious — it's still undoubtedly one of the best bars in Singapore, except bartenders serve you intricate tipples… In shorts.
The menu here is rather eclectic as it ranges from the bar's modernised take on its namesake drink, the Gibson ($25), to clever Asian-focused twists including a beautifully crisp and floral Amazake Bellini ($25), refreshing injected with a pandan aroma.
Gibson
Reserve | Instagram | Facebook
Address: 20 Bukit Pasoh Rd, #2nd Floor, Singapore 089834
Hours: (Wed–Thurs) 6pm–1am, (Fri–Sat) 6pm–2am, (Sun–Mon) 6pm–12am
Exciting Bars for Adventurous Palates
Having established itself as a metropolitan with access to the most cutting-edge apparatus and a smorgasbord of ingredients from all over the world, Singapore naturally allows creative bartenders to shine. Tuned in on the most bodacious of concepts and techniques, you're looking at the best bars in Singapore for those who wish to be dazzled with ingenuity.
Native is best described as a sanctuary crafted for the adventurous palate. Even amidst progressively wilder ideas sneaking into droves of Singapore's best bars, Native is a bar that pushes the envelope the most effortlessly with a dogmatic approach to hyper-locality.
Obstinately infatuated with incorporating regional flavours with utmost finesse, guests will find themselves face-to-face with inspired concoctions such as the esoteric but easy-to-drink Pineapple Arrack ($28) and Sarapan ($26).
In particular, the latter is exceedingly charming, presenting an eloquent distillation of the nostalgic flavours of a quintessential Singapore breakfast. That's only the cocktails — the three-storeyed concept also contains a fermentation lab on its third floor and an inventive fusion restaurant on the ground floor.
Native
Reserve | Instagram | Facebook
Address: 52A Amoy St, Singapore 069878
Hours: (Mon–Sat) 6pm–12am
Nutmeg & Clove is perhaps the best Singaporean representative for mixology. It is unabashedly Singaporean, constantly striving in its mission to incorporate a melange of local influences with great sophistication.
That's apparent when you sip on drinks such as the euphorically coconut-fragrant For the Love of Kueh ($25) or the zesty Ramos at Home ($25), a fusion of both the Ramos and Singapore Sling.
Apart from its main menu, free-flow Fried Chicken Sandwiches during happy hour undoubtedly make Nutmeg & Clove one of the best bars in Singapore. Well, that and its recent No. 7 glory at this year's Asia's 50 Best Bars.
Nutmeg & Clove
Reserve | Instagram | Facebook
Address: 8 Purvis St, Singapore 188587
Hours: (Mon–Thurs) 5pm–12am, (Fri–Sat) 4pm–12am
Mixology Salon
Only opened this year, this quaint Robertson Quay lounge is the local outpost of a lauded Ginza bar, a sophisticated mixological experience weaved around the complexities of premium Japanese teas. Devoted to tea, the bar's menu features myriad tea-based alter-ego in forms such as Gyokuro Martini ($28) or Genmai Negroni ($27).
Beyond a simple look at cocktails, it also offers the Gyokuro Cocktails Course ($65), an intricate exploration of the highest-grade Japanese green tea, starring two cocktails and is bookended by two pours of the tea influenced by distinct steeping conditions.
Is it too early to call Mixology Salon one of the best bars in Singapore? No, I don't think so. Its ingenuity speaks for itself.
Mixology Salon
Reserve | Instagram | Facebook
Address: 1 Nanson Rd, #02-07B InterContinental Robertson Quay, Singapore 238909
Hours: (Mon, Wed–Sat) 4pm–11pm, (Sun) 3pm–10pm
A wave-like counter modishly fashioned out of recycled plastics. Drinks eschewing familiar components for "analogue" substitutes. Built with adulation for hyper-locality and sustainability, Native's younger sibling at CHIJMES is the bar of the future.
There are two sides to Analogue's drinks programme. The main menu is focused on swapping out common ingredients, giving rise to drinks such as the Spaceman ($26), a peanut-butter-forward Neo-Negroni of sorts on its main menu.
Elsewhere on the menu, Analogue then uses modern methods to rejig their favourite classics — imagine twists made by re-distilling Campari to mix up their version of the classic Negroni ($26). And that's without even diving into its outstanding plant-based food menu.
Analogue Initiative
Reserve | Instagram | Facebook
Address: 30 Victoria St, #01-31 CHIJMES, Singapore 187996
Hours: (Mon–Sun) 5pm–12am
Junior the Pocket Bar
Junior the Pocket Bar is the chameleon of the Singapore bar scene that forewent classic menu changes, instead opting for complete thematic upheavals every quarter. Everything from the drinks to the decor is redesigned from the ground up, exploring themes from alpine lodges to Saturday morning cartoons.
The newly dropped Vol. 10 menu "Palace", the first with new manager Edu Zamora on board, brings guests back in time to Joseon dynasty palaces through a plethora of playful Korean-leaning libations.
Meet charming twists such as the Aloe Vera ($26) Lychee Martini rejig or slowly sip and savour the impossibly complex and spice-forward Gochujang ($26) that features blended rum, gochujang, maraschino, and grapefruit wine.
Junior the Pocket Bar
Address: 6 Ann Siang Hill, Singapore 069787
Hours: (Tues–Sat) 6pm–12am
Tippling Club
Tippling Club is an institution in the local bar scene, known as the place always on the cutting-edge and pushing innovations such as its iconic menu supplemented with an assortment of gummy bear testers.
The Tanjong Pagar gastrobar's latest menu is one that showcases Head Bartender Arathorn's infatuation with music, eloquently distilled into a collection of tipples based on the most influential tunes through the ages.
For this menu, creative presentations are worked into the drinks to channel the artists: meringue cone-shaped "bras" for the Madonna-inspired Dear Jessie ($24) and a customised dollar note clipped to the side of the minty Ray Charles homage, Greenbacks ($28).
Tippling Club
Reserve | Instagram | Facebook
Address: 38 Tg Pagar Rd, Singapore 088461
Hours: (Thurs–Tues) 12pm–12am
Fura
This vibrant newcomer is a bundle of potential. Here, intrepid flavour experimentations come at you, showcasing co-founder Sasha's eye for the unusual, while a slew of sustainability-focused plant grub by co-owner Christine, former Head Forage of Noma, is the cherry on top.
With Sasha's Empirical Spirits and Operation Dagger pedigree, cocktail construction tends to be unorthodox, exemplified by the caviar-adorned Caviar Papi ($28) that explores profile progression through the melting of kombu ice cream.
On the other hand, more forwardly eccentric ideas on paper can turn out elegantly rounded: Take the jelly-fish-infused Jellyfish Martini ($25), for example. Instead of fishy funk, the tweaks imbue it with more balance and dept, helping it escape the one-dimensional tendencies of the drink.
Fura
Address: 74A Amoy St, Singapore 069893
Hours: (Tues–Sat) 5pm–11:30pm
Bar Stories is a legendary name for many frequent imbibers. The Haji Lane hideout has persisted through the changing times with only one mission — a menuless experience, serving only bold and creative Bespoke Cocktails (from $25) catered to the customers' preferred profile.
The inherent versatility and unpredictability mean this is the best bar in Singapore for intrepid cocktail adventures, especially with access to food from Habibi-San, a Japanese-Mediterranean grill specialising in stunningly smoky dishes.
Be prepared to be bewitched as you'd find yourselves sipping on ingenious mixological handiwork such as an absurdly well-balanced Chrysanthemum Death in the Afternoons. and even off-the-wall obscurities such as the majority-bitters Trinidad Sour, if you're up for it.
Bar Stories
Reserve | Instagram | Facebook
Address: 55-57A Haji Ln, Singapore 189248
Hours: (Sun, Tues–Thurs) 5:30pm–11:30pm, (Fri–Sat) 5:30pm–12am
ANTI:DOTE
Looking to cure the blues with alcohol? A visit to The Fairmont's lobby bar ANTI:DOTE is in order for the newest Cure:All menu where Head Mixologist Kingston Chin mischievously weaves in traditionally holistic components to cook up "antidotes" for guests.
It's a menu suffused with unconventionality — snapshots included the White Negroni overhauled with a rum base as What Do You Want ($25) and Baijiu deftly infused into the Roselle-perfumed Ancient Love Affair ($25).
Anti:Dote
Reserve | Instagram | Facebook
Address: 80 Bras Basah Rd, Level 1 Fairmont, Singapore 189560
Hours: (Mon–Sun) 12pm–2:30pm, 5:30pm-1am
Immaculate Vibes for Immaculate Date Nights
Certain bars are simply better suited for date night. Be it sweeping rooftop views, immaculate aesthetics or just refined and intimate ambience — in my mind, these are the hottest and best bars in Singapore to spark a conversation and/or kindle a connection.
There's no view in Singapore quite comparable to the one at Smoke & Mirrors. Blessed with a stunning panoramic vista of Singapore's resplendent skyline, it's the best rooftop bar in Singapore by a country mile, at least in my eyes.
What makes Smoke & Mirrors an even more outstanding experience stems from how doesn't skirt away from ambitious cocktail menus despite its million-dollar view. Always set for a wonderful time, nights out here are made even better with the unique concoctions on its art-inspired menu.
"The Real Art of Drinking: Vol. III" expounds on abstract artistic disciplines through tipples, fleshing out ideas such as Kiss of Revival ($30) a potent and theatrical order that pays homage to literature with imagery from Snow White.
Smoke & Mirrors
Reserve | Instagram | Facebook
Address: 1 St. Andrew's Road, #06-01 National Gallery, Singapore 178957
Hours: (Mon–Wed) 6pm–12am, (Thurs–Sat) 6pm–1am, (Sun) 5pm–12am
After a prolonged hiatus during the earlier half of 2023, MO Bar has returned triumphantly. While the familiar faces that originally made it so wonderful have moved on, it's a new dawn for this cosy hotel lounge, now sleekly awash in sharp azure and navy blues and with new blood behind the bar.
The "Blue Print" menu traverses Singapore's past, present, and future to bring guests a slew of creative drinks such as the Reclaimed Slings ($26) and the White Rabbit ($26). Don't worry, the latter isn't another trite nostalgic tripper as its name suggests but an unorthodox refresher that uses Assam Laksa as its inspiration.
MO BAR
Reserve | Instagram | Facebook
Address: 5 Raffles Ave, Level 4 Mandarin Oriental Singapore, Singapore 039797
Hours: (Sun–Thurs) 5pm–1am, (Fri-Sat) 5pm–2am
Atlas doesn't really need much introduction or explanation on why it's considered one of the best bars in Singapore, Asia, and beyond. There's just no substitute for the Atlas' grandiose gilded trimmings and the monolithic tower that houses one of the most extensive gin libraries in the world.
New Head Bartender Yana's debut menu "Simple Pleasures" is a splendid showcase of the bar's sensibilities for time-honoured cocktails, segmented into four categories: "martini", "sour", "old fashioned" and "champagne cocktail".
While the "Old Fashioned" section will pamper even the most ardent drinker with stiff tinctures like the stunning pink-peppercorn-infused Crimson Pipe ($26), don't miss out on the guilefully zesty The Occidental ($27) from the "Martini" section, clocking in at an eye-watering 39.2% ABV.
ATLAS
Reserve | Facebook | Instagram
Address: 600 North Bridge Rd, Parkview Square Ground Floor, Singapore 188778
Hours: (Tues–Thurs) 12pm–12am, (Fri–Sat) 12am–2am
The poster child for minimalism. Platform is an idyllic hideout amidst the chaos of the CBD, soothingly clad in the cleanest monochrome and trimmed with the daintiest dried floral arrangements.
Fittingly, Platform's drinks are restrained and understated. Unlike most of the other cocktail bars, the menu is honed to explore botanicals-forward layers in low-ABV tipples such as the Saffron ($18), leaving your psyche just hazy enough to escape the woes of work.
More recently, Platform has expanded its menu with a triad of drinks that conform to the regular alcoholic vigour. In particular, the Jasmine ($23) will please Negroni drinkers with its balanced and delicately sweet profile, spruced up with the dainty scent of flowers.
Platform
Reserve | Instagram | Facebook
Address: 19 Amoy St, #01-01, Singapore 069854
Hours: (Mon–Fri) 6pm–12am, (Sat–Sun) 3pm–12am
Victoria Concert Hall's latest spectacle, Brasserie Astoria, is a date-spot-worthy restaurant that presents elevated casual dining and elegant mixology in a svelte ballroom. Of course, only the highest quality can be expected from the sophomore local concept by the esteemed Frantzen Group, also behind Singapore's Three-Michelin-Starred Restaurant Zen.
Culinary pursuits may be its main focus but don't misprize the cocktail programme. Bearing a slight Nordic slant to it, there is no shortage of entrancing sippers with the immaculately balanced Lagom ($25) and the balmy and briney Morgondagg ($28) both representing wildly different extremes of the taste spectrum.
Brasserie Astoria (Singapore)
Reserve | Facebook | Instagram
Address: 11 Empress Pl, Victoria Concert Hall, Singapore 179558
Hours: (Mon–Sun) 11:45 am–2:30 pm, 6 pm–12 am
An electrifying sound system, thoughtfully curated guest DJs, and technicoloured 80's retro decor — some of the reasons Offtrack easily measures up against the grandest locations as one of the best date-spot bars in Singapore.
Funky fun nights are made of music lovers revelling in the groove while their taste buds are treated to a showcase of off-the-track rejuvenation on classics by Head Bartender Joash Conceicao, an experienced classics enthusiast who formerly cut his teeth Jigger & Pony.
At his hands, neglected Tiki drinks such as the Saturn ($24) are imbued with sophistication while happy hour comes with its own glut of solid and affordable offerings — El Diablos, Negronis, Tommy's Margaritas, and a mystery Rotating Special at only $16? Yes, please.
Offtrack
Reserve | Instagram | Facebook
Address: 34 N Canal Rd, #01-01, Singapore 059290
Hours: (Mon–Sun) 5pm–12am
Picturesque pool-side skyline views. Chic pastel tropical fixtures reminiscent of Wes Anderson aesthetics. Las Palmas is a rooftop bar that is out to dazzle with its immaculate design choices and breathtaking vantage.
This tropical paradise 32 storeys above ground from Novena will leave you smitten with both the ambience and vibrant mixological offerings, covering a swathe of profiles from overproof High Tide Mai Tais ($28) to my favourite Fear & Loathing in Las Vegas ($20), a bodacious Mezcal Last Word rejig.
LAS PALMAS ROOFTOP BAR
Reserve | Instagram | Facebook
Address: 99 Irrawaddy Rd, Level 33 Courtyard Marriott Singapore, Singapore 329568
Hours: (Tues–Thurs) 5pm–12am, (Fri) 5pm–1am, (Sat) 3pm–1am, (Sun) 3pm–12am
One-Ninety Bar
Four Seasons Singapore's One-Ninety Bar is a hidden gem that doesn't really get called out in most casual drinkers' discourse on the best bars in Singapore. Those people would, then, probably be taken aback by the mixological quality and the splendour of its outdoor garden lounge.
Plush, intricate, and dignified, the "New Secret Gardens" is a menu that explores the world's most idyllic gardens. That entails the Brooklyn Gardens' iconic wedding photo spot being evoked through the Palm House ($27) Aperol Spritz and Gin Fizz hybrid, our Botanic Gardens' Bandstand ($27) condensed into a coffee Manhattan, and so on and so forth.
One-ninety Bar
Reserve | Instagram | Facebook
Address: 190 Orchard Blvd, Four Seasons Hotel, Singapore 248646
Hours: (Mon–Sun) 8am–12am
Best Cocktail Bars in Singapore for Fun Nights Out
Sometimes, bar-hopping nights don't have to be so stuffy or luxe. If it ever gets tiring trying to keep up with the glamorous and fast-paced scene in Singapore, these fun and unpretentious bars will make sure you're well taken care of. It's the human touch that comes first for them as they shower you with bouts of shenanigans, banter, and chest-thumping tunes.
Sago House
Despite its rather shady location, many swear by the Chinatown speakeasy as one of the undisputable best bars in Singapore. Akin to a boisterous house party, the unpretentious Sago House is a bar built on banter and shenanigans by its charming crew.
Resemblances to a dive bar don't hinder the quality one bit though — a claim backed up by 50 Best, which hails it as the No. 10 in Asia. Yes, the insanely demanding weekly rotating menu means hits and misses are inevitable, but ingenuity is still prevalent.
Fun concoctions such as the Thai-milk-tea-inspired Thai-Teanium ($21) make the trips worth it, but tailormade pandan-kissed Naked and Famous and other wacky Bespoke Cocktails will make you want to return for more crazy spins.
Sago House
Address: 40B Sago St, Singapore 059029
Hours: (Tues–Sun) 6pm–12am
Not many would know of this hidden-gem rooftop hideout at Keong Saik. Its allure doesn't lie in swanky decor or promises of fancy or pretentious mixology. Instead, its sole purpose is to ensure everyone has a blastin' good time filled with artisan mezcal and undulating electronic tunes.
Having a hodgepodge of eclectic Mezcal-based drinks on hand at reasonable prices (maximum $23 nett), Foxtail's welcomes can vary from the criminally refreshing Doses & Mimosas ($20) to the obscenely potent Mezcal Last Word twist, 1 For Da Road ($23).
Want to kick back and relax or get shit-faced off the bat? Your call.
Foxtail
Address: 11 Neil Rd, Singapore 088809
Hours: (Tues–Sat) 4pm–12am
With scant indication on its nondescript shopfront, The Store might not be the most conspicuous or well-known bar. But really, the Neil Road mainstay is the people's bar. With a tantalising happy-hour menu fixed at $11 a pop, it might be the best bar in Singapore for those on the prowl for the best-value drinks.
Beyond that, they also dabble in recreating iconic drinks with local influences and unorthodox touches, creating a myriad of enthralling riffs such as the Notanegroni ($25) that swaps out vermouth for umeshu. Spoilers: An exciting new EP. 3 menu is coming soon and Banana Rum Manhattans are on it!
The Store
Address: 11 Neil Rd, Singapore 088809
Hours: (Tues–Sat) 4pm–12am
Rock 'n' Roll, baby. A concept founded by two seasoned bartenders, Bai Jia Wei from EO and Jerrold Khoo from Jigger Pony. Stay Gold Flamingo is a modish neon-lit den that often houses the most rambunctious crowds that dwell along Amoy Street.
Guests will find themselves galvanised by high-octane tunes while getting intoxicated by methodically prepared drinks on its Alter Ego menu that throws you a plethora of poison.
My fancy? Obviously the Fancy Mary ($25), a rebellious bloody mary interpretation — clear from distillation but still immensely rich and even elevated with the dulcet sharpness of caramelised onions.
Stay Gold Flamingo
Reserve | Instagram | Facebook
Address: 69 Amoy St, Singapore 069888
Hours: (Mon–Sat) 5pm–12am
A basement hideout hidden deep in the bowels of Low Tide with hardly any signs, condensing everything into a supremely intimate space. That said, don't mistake its stature as a detriment. The layout allows the bar team to earnestly present the Korean-inspired flavours closest to their heart.
Everything comes with a personal touch as the quirky bartenders charm you with assiduously crafted sweet-potato-based Negroni riffs (Goguma, $23) and uncannily refreshing kimchi-infused drinks (Dongchimi, $23).
SSAL
Address: 98 Club St, Singapore 069467
Hours: (Tues–Sat) 6pm–12am
Nothing screams "unhinged nights" much like Tequila. The liquor of repressed wipeout nights may have inexorably gained notoriety but Cat Bite Club may just be the place to change perceptions. Helmed by Jesse Vida, partnering up with larger-than-life American compatriot Gabriel Lowe, the former Atlas Head Bartender has created an intimate bar ardently focused on agave and rice spirits.
Cat Bite Margaritas ($26), Espresso Martinis ($25) and a particularly remarkably balanced Vieux Carre ($28) — this speakeasy hidden behind Monument Coffee shakes up a dizzying array of familiar libations, but with spunk.
At the same time, the duo also fixes up creative originals with agave. One charming example is the Tomato is a Fruit ($25), a funky and umami highlight that will imminently win over many hearts. Cat Bite Club is, to me, one of the best bars in Singapore to indulge in American-style bartending.
Cat bite Club
Address: 75 Duxton Rd, Singapore 089534
Hours: (Mon–Sat) 5pm–12am
Very rarely do you see cocktail bars revive with such fanfare long after they initially shutter — but Sugarhall isn't like other bars. Originally Jigger & Pony's blockmate down at Amoy Street, the rum-focused favourite returned with a bang earlier this year.
What makes this one of the best bars in Singapore for a fun night out is the diversity of tipples. Oodles of zany nostalgia-influenced tipples line its latest menu, "Not Too Sweet", including a Bandung-inspired Rose, Rose I Love You ($23) and the supremely malty milo homage, Champion Highball ($25).
Above all, Sugarhall is markedly different in vibe — it shows the same conscientiousness but with a more laidback approach. Instead of stiff Japanese-style perfection, the fun-loving team instead relishes in rum-fuelled parties, unorthodox Olive Negronis ($15/happy hour), and frying up Indomie ($18) as bar grub.
Sugarhall
Reserve | Instagram | Facebook
Address: 19 Cecil St, Level 2, Singapore 049704
Hours: (Mon–Thurs) 5:30pm–12am, (Fri–Sat) 5:30pm–2am
One of the newest kids on the block that's already gained quite a bit of reputation for itself. Night Hawk, named after Edward Hopper's magnum opus, is a cramped, surreptitious little outfit hidden at the back of Five Oars Coffee Roasters along Tras Street.
Diminutive it may be, but the flavours are tremendous and the hospitality is heartfelt. Look out for well-executed riffs including a buttery and fuller Manhattan riff, the Kick Artist Fix ($25), and an exceedingly unique miso-based savoury Savor the Future ($25) that blurs the line between a bloody mary and a dirty martini.
Night Hawk
Address: 43 Tg Pagar Rd, #01-02, Singapore 088464
Hours: (Tues–Sat) 5:30pm–12am
Jungle Ballroom
Tucked away on the third storey of the swanky new Mondrian Hotel at Duxton, Jungle Ballroom is a bar all about enjoyment and letting loose. But the ones orchestrating those uninhibited, booze-filled nights? A team of experienced bartenders including Bar Manager, Adrian Besa of MO Bar fame.
Its menu is a lush jungle of diverse styles for all kinds of drinkers. Those who just want to have fun can dive into the How Doth the Little Crocodile ($26) which comes with a wonderfully whimsical gimmick that sees you folding origami crocodiles. Those more serious about seeking potency, head for the Queen of the Jungle ($26), a potent and funkier and enhanced Manhattan cousin.
Jungle Ballroom
Reserve | Instagram | Facebook
Address: 16A Duxton Hill, #03-03 Mondrian Singapore Duxton, Singapore 089970
Hours: (Tues–Sat) 7pm–2am