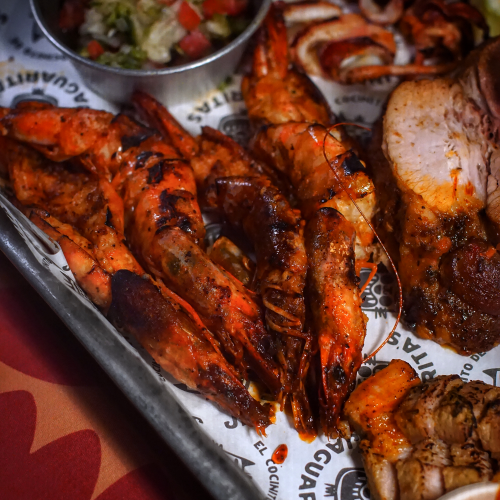 Jaguarita's brings solid Mexican Food, craft beer & Agave spirits to Buona Vista
Buona Vista has always been a bit of a neglected area when it comes to food — very few establishments in the vicinity are brought up when it comes to the debate for the best restaurants or best cafes in Singapore, at least not until you travel a bit further up to the Ghim Moh area.
In many ways, the bustling train interchange is an untapped market that's mostly been relegated to hosting franchises. That conundrum is exactly what makes the new Mexican restaurant, Jaguarita's, such a pleasant addition to the Buona Vista food scene.
For one, it provides the area with options from a trendier style of cuisine it's lacking — notwithstanding the existence of Guzman Y Gomez, which is decent but can't compare to the best Mexican restaurants in Singapore.
More interestingly, Jaguarita's brings craft beers and drinks made with more finesse to treat the alcohol-loving bon vivants in Buona Vista.
It is the sibling concept of the popular craft-beer extraordinaire Orh Gao Taproom and Yeastside, after all. Quality control is almost assured.
Solid Tacos
There's no denying it — tacos are one of the most recognisable, and hence ubiquitous, Mexican dishes that inadvertently become one of the best-sellers at most local joints.
Hence tacos are often the easiest barometer to judge a Mexican restaurant, taqueria or otherwise. One interesting signature was the Beef Birria Tacos ($7) since good Birria is a slightly rarer sight locally.
The Jaguarita's version is no doubt solid — the pulled beef is terribly luscious, the red onions add delectable acidity, and the consomme dip injects a nice depth to galvanise the ensemble.
On the other hand, the Pescadillas ($7) were generally enjoyable as a whole but the beer-battered fish sported a peculiar crunch and texture that was rather different from your usual Baja fish tacos that might not endear it to purists.
Grill Feels
While tacos were a solid introduction to Jaguarita's, the dinner menu's strength actually lay in its array of charcoal-grilled items, which can be sampled with a Grilled Platter ($58) that summarises the signatures for you, capable of feeding up to 4 people.
Out of all the grilled items, the Agave Prawns ($22) caught our attention the fastest with an impeccably tender texture, jazzed up with an intoxicating kiss of smoke that complimented the preceding mezcal marinade.
The balance of the items all performed quite well too, with the Kurobuta Pork Ribs ($28) very easily pried off the bone and the Mojo Pork Belly ($24) strutting its stuff with an agreeable mix of crunch and fattiness.
That said, the charcoal-grilled array wasn't without duds — specifically, the Grilled Whole Squid ($28), which tasted fine when accentuated with citrus but was marred by a slight rubberiness and insidious griminess that detracted from the final enjoyment.

To pair with the heavy grills, Jaguarita's also carries an enticing slew of libations but, depending on your fondness towards agave, I recommend diving into the mezcal and tequila collection that's crammed into the shelf by the entrance.
This is a rather comprehensive curation that can give you a bit of perspective on craft agave spirits, in case your adolescent run-ins with tequila have left you apprehensive.
Candidly, Jaguarita's isn't contending for the title of best Mexican food in Singapore. But it doesn't really have those lofty ambitions, either — like its affiliates, this is a hangout spot meant for no-frills, unpretentious fun times.
With solid tacos, smoky charcoal-grilled delights, and a comely curation of tipples, I think it more than satisfies its purpose and easily earns itself a spot as one of Buona Vista's best food options.
Make your reservations here.
Jaguarita's
Website | Facebook | Instagram
Address: 9 North Buona Vista Dr, #01-18 The Metropolis, Singapore 138588
Hours: (Mon–Fri) 11:30am–2:30pm, 5:30am–11:30pm
*This was an invited tasting.