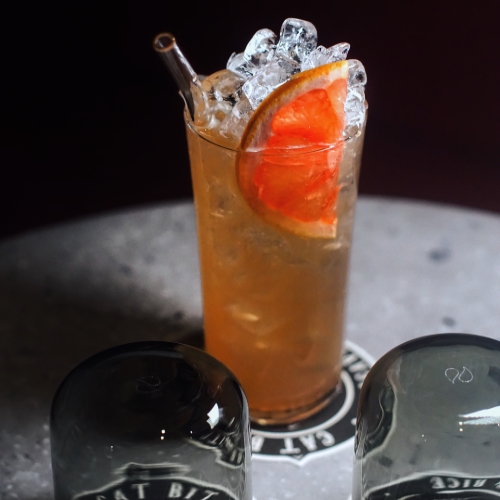 Cat Bite Club is the cool-cat Speakeasy Bar made for agave lovers in Duxton
Look what the cat dragged in: It's Cat Bite Club, the newest speakeasy bar at Duxton that coincidentally is the baby of one Jesse Vida.
That name has to be particularly intimate for many of Singapore's frequent bar-hoppers — Jesse Vida was the former Head Bartender at the renowned Atlas Bar, after all.
In stark contrast to the capacious and opulent venue that he formerly presided over, Cat Bite Club is, veritably, bite-sized.
The way to the speakeasy is hidden in plain sight along Duxton Road, behind a cafe actually— the new kid on the block bunks with housemates Monument Coffee, a stalwart fixture in the area.
An floridly-backlit sign welcomes customers at the door but it's not immediately apparent there's a bar operating out of the space until a chaperone guides you beyond the drapes that partitioned the shophouse floor into two.
At the back lurked Cat Bite Club — nothing too fancy but immensely cosy; not quite mingy but more intimate.
It's a straightforward setup and guests are effusively greeted by the staff, including Jesse's partner-in-crime and long-time friend.
We're talking about the other half of the (perpetually inebriated) brains, the mohawked Gabriel Lowe who also hails from San Francisco, along with Jesse.
What AgaGives?
It's evident that the duo at the helm are going to inject an All-American bar energy into this operation. Who better to run a speakeasy than the ones who invented it?
What better way than to have Cat Bite Club focus on an edgier, more under-the-radar classic North-American poison — agave-based spirits?
While Mezcal (a spirit made from agave, including Tequila) is having its moment in Singapore's bar scene, general exposure to it is still relatively scant. It's a heart-warming sight to see another agave-focused bar join the fray.
Notwithstanding the conscientious bottle curation to fit its branding as an "agave and rice bar", Cat Bite Club isn't a one-trick-pussy.
That's evident when you peruse the menu and a plethora of eclectically mixed concoctions jump out to you, many of which utilise neither agave nor rice.
In fact, I'd crown their take on the classic Vieux Carre (S$28) as the star of the night. Now, this is a drink that comes with plenty of bite.
While spirit-forward, it also manages to stay very tastefully balanced to let the suave dry notes strut their stuff in the background.
However, Cat Bite Club also astutely uses the Mezcal that lines its shelves to conjure creative creations such as the Tomato is a Fruit (S$25).
The name is a bit of a cheeky misnomer — it contains Espadin Mezcal, Yellow Chartreuse, Campari, Sherry and citrus… but not tomato. The profile isn't actually indebted to the fruit's richness.
Instead, it reminds you of tomato with a sprightly but umami base that also hides plenty of funky nuances from its components, while jazzed up with mellow trails of smoke.
There's also the Final Lecture (S$26), which has absolutely no affiliation with the Last Word despite the naming convention, that features Anejo Tequila, Plum, Sherry, Cynar and aromatic bitters.
An empathetic number that comes brimming with interesting vegetal nuances owing to the lush complexities of ingredients such as Anejo Tequila and Cynar, this is a hard-hitting sipper that is worth slow consideration and the honour as your nightcap.
Some may wonder: Does Cat Bite Club punch in the same weight class as Atlas, considering Jesse's involvement? These are polar opposites and completely different monsters.
There's no mistaking Cat Bite Club's identity as an unpretentious bar that's all about fucking you up with 'Murican hospitality.
I'm not usually one for straight-shootin' American-style bartending but the mixological finesse is apparent but also modest enough to not overshadow the all-important fun factor.
Cat Bite Club
Website | Facebook | Instagram
Address:75 Duxton Rd
Hours: (Mon–Sat) 5pm–12am