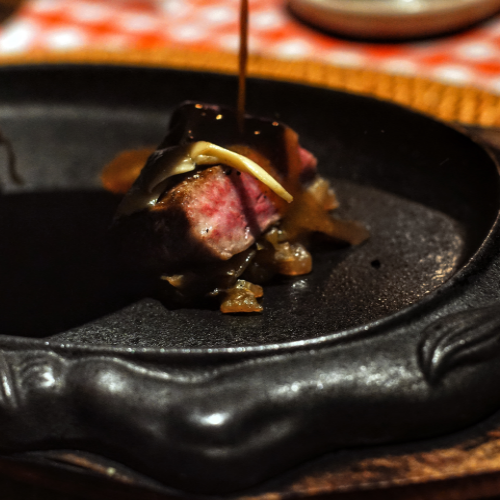 Restaurant Labyrinth Guides you on an enchanting odyssey, weaving through Iconic Singaporean Flavours
In Greek mythology, the Labyrinth was a structure devised by mastercraftsman Daedalus as a means to contain the monstrous Minotaur, one that's elaborate and flush with serpentine paths leading to its centre.
Its symbolism can be interpreted in myriad ways, each distinctly profound. However, one common but idealistic connotation is perhaps a more resounding fit for Singapore's Michelin-starred Restaurant Labyrinth — the abstract symbolism of birth and rebirth through one's life, as if wandering through a meandering maze.
2014 was the year it was founded by chef-owner LG Han and has, since then, charted a course trawling through hazy horizons, striving to elucidate what truly constitutes Singapore's culinary identity.
Singapore is, in all honesty, a precocious bit-part character in the grand scheme of a culture-rich culinary world. Hawker culture may be our burning passion but Singapore is still striving to earn a vacancy amongst the creme de la creme of a much more stringent haute cuisine sphere.
Restaurant Labyrinth is a precarious balancing act, one looking towards the future with modernity while also wistfully embracing heritage.
It challenges the evolving paradigm with the already-passed. It explores nostalgia through newfangled presentations. To me, this style of cooking is fucking romantic.
Taking on the onus of unmuddling the parameters of a chicer and modern "New Singaporean" cuisine, Restaurant Labyrinth is ambitious. But that ambition has paid off, claiming glory at the recent Asia's 50 Best Restaurants with a triumphant 11th.
Newton Calling
To achieve its raison d'etre, Restaurant Labyrinth's tasting menu meticulously details a gourmet odyssey that runs the span of an extensive three hours. For lunch.
It all starts off with an intensely herbaceous tea egg welcome snack before Chef Han and his team usher diners to the departure point: Newton Food Centre.
Aiming to provide an immersive mise-en-scene, the table is first arranged around a bright-yellow acrylic "tabletop", whimsically reminiscent of the familiar hawker centre fixtures.
A "hawker feast" is then sprawled out onto the acrylic mould, comprising an array of intricately plated Amuse Bouche that borrow heavily from hawker favourites such as Satay and Roti John.

The presentation is not the sole point of ingenuity — all dishes were also creative reimaginations of icons, with standouts such as the ludicrously tasty "Orh Luak" which condenses all that briney, starchy decadence into a texturally complex bite.
After the plates are polished up, the crockery is set aside and exchanged for a rather queer item — a newspaper.
There's a rationale behind this quirk, as a speaker is cleverly hidden within, serving up environmental recordings of morning Kopitiam hubbub.
Using the props, Restaurant Labyrinth goes on to present the familiar tastes, sights, and scents of the quintessential Singapore breakfast, but handily condensed into the presentation of their house-made bread and butter accoutrements.
At the heart of it is a Soy-Caramel-Glazed Bread that astounds with its dreamily soft texture while the tasteful salinity of the glaze imbues a rather unique profile.
However, the flavours jolt into a riot when bolstered with oodles of sensational Kopi Butter and Seaweed Butter. The coffee provides an aromatic depth while the seaweed comes deftly balanced to add a lightly saline umami that harmonises with the glaze.
Same Same but Different
Scraps of other nostalgic flavours are then slowly introduced with the more sizeable courses, each with an enchanting homely quality to them.
It began with the Pandan Air Waffle, mixing up faux foie gras, strawberry compote, and assam into a spread for classic pandan waffles.
While most components showed finesse —including the surprisingly decent ersatz foie gras— the strawberry's pronounced piquancy cannibalised most of the nuances.
However, we quickly moved past that slight blip with Restaurant Labyrinth's celebrated deconstructed Chilli Crab, served with crunchy mini "mantous".
Being the ninth revision, this perennial favourite had its flavours toned down and rounded out, according to a friend who's tried a previous version.
This is more of a balanced comfort, made extra soothing with the tang and spice blend in its tomato ice cream that's jazzed up with elegant florals.
Then it came down to a Hainanese "Chicken" Pie riff that mischievously uses "farm chicken" instead of conventional chicken — or rather, frog leg (田鸡).
Now, this tidbit is impossibly nostalgic — Restaurant Labyrinth's puff pastry fondly reminded me of the McDonald's pie crackle and taste. Its innards were equally satisfying, loaded with delectably creamy fillings reminiscent of a hearty Spanish croquette.
The restaurant Labyrinth DNA
The mains are where Restaurant Labyrinth's ingenuity shows its lustre. Arriving first is a bowl of Prawn Noodle Soup that perfectly embodies the concept of "elevated nostalgia".
Chef Han's influence on the local classic is super simple but elegant, amping up the richness with prawn garum but concocting it such that it wasn't overtly flashy and still faithful to the comforting old-school prawn mee broth.
Broth aside, the components were sublime too — immaculate texture and width replicated in the prawn paste noodles, gratuitously crunchy ngoh-hiang-style prawn crackers, and stupendous melt-in-mouth Aka Ebi.
The chasing palate cleanser, a dismantling of the Rojak, assembled upon a bed of Rojak emulsification, made refreshing and complex from galangal sharpness and twang florals. Sumptuous, but also a tad too complicated for a palate cleanser.
Restaurant Labyrinth's penchant for flair and imagery is unmistakable, as a gingham tablecloth is draped over the dining table and a red wax candle (made with edible beef fat) is stamped on the centre of the table.
This meticulously designed backdrop is meant to capture the romanticism of retro Cairnhill Steakhouse, once headed by Chef Han's grandfather in the olden days.
The cut is more luxe and up-to-date with modern steakhouse standards, featuring an A4 Toichi Wagyu on a sizzling hotplate, that's buttressed with a Hainanese red wine sauce.
Execution is sound — it's built around the succulent bovine but it's the sharp, tangy complexity of the sauce and charred onions at the side pushing it past the conventionality of the usual fine-dining steak course.
The restaurant Labyrinth DNA
Eschewing the usual intricately plated desserts, Restaurant Labyrinth brings on the sweets first by wheeling out an ice shaving machine, for diners to manually grind out their own Ice Kacang.
This riff is a medley of whimsical flavours — earthy, zesty, grassy, acidic and with a touch of endearing ginger pungency. Most interestingly, it's imbued with Sichuan pepper for an enthralling numbing finish.
The divisive Orh Nee was also given a makeover, compacted into a mini-garden containing Jerusalem artichoke, black truffle and kabocha ice cream.
Despite the unimaginably unorthodox ingredients, this was one of the showstoppers of the entire meal — impeccably balanced as clean artichoke earthiness is met with the dulcet warmth of the silky yam paste.
Everything eventually culminates in an ersatz Kaya Toast —nicely toasty and luxuriously buttery— adorably featuring slices of airy Teh meringue.
Certainly, that felt like the aptest conclusion to the Restaurant Labyrinth tasting menu. While most courses were deceptively simple in profile but ultimately, it was a blast seeing how Chef Han rejigged many of Singapore's familiar icons.
There were hits and misses. It's also not exactly a pristine or lavish revelation. However, what it wasn't missing was soul and earnestness — and that's what truly matters.
Make your reservations here.
Restaurant Labyrinth
Website | Facebook | Instagram
Address: 8 Raffles Avenue, #02-23 Esplanade Mall, Singapore 039802
Hours: (Wed–Thurs) 6:30pm–11pm, (Fri–Sun) 12pm–12:30pm, 6:30pm–11pm