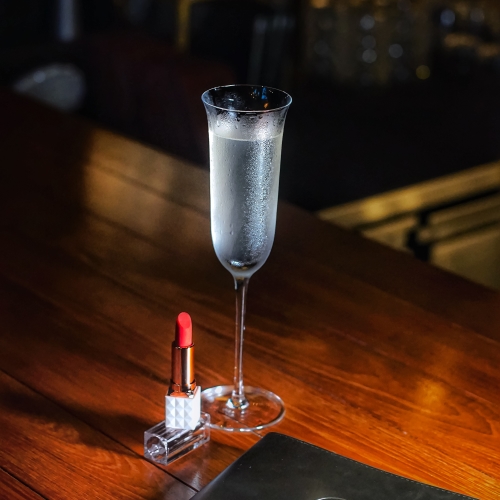 Origin Bar — a splendorous new Cocktail Menu Concept on the Genesis of The World
We're witnessing the start of a new chapter for this surprisingly under-the-radar hotel bar, housed within far-flung Shangri-La Singapore. Equipped with a new team full of new faces, recruited for their diverse backgrounds, Origin Bar is starting on the path towards long-overdue plaudits.
Of course, it's still excruciatingly tedious to commute to Shangri-La without automotive assistance. Buses are the only viable method of public transport but even then, it takes a good 10 minutes of legwork to trudge to.
Still, the star power might be enough to assuage discerning imbibers. While retaining the services of long-time crew member Adonis and Bar Manager Adam, Origin Bar also managed to add Aki, a D.Bespoke protege from Japan, Elephant Room veteran Rishi, and Smoke & Mirrors showman Edu to the team.
The bar itself has not much glitzy pizzazz to speak of, it's just a cosy lounge filled with plush seats. It's tasteful, it's comfortable, and the service is personable so I was only too excited to dive into the new menu, one based on the origin of all things.
2023 may be a year of new beginnings for many people but for Origin Bar, 2023 isn't just a year of a new menu but also one spent exploring the beginning of, and the watershed moments in, mankind's short but eventful history.
A Big Bang
Before there was life, there was the big bang. Dark Matter ($26) is a drink very profound in scope — trying to condense the beginning of time into a drink is a ludicrous uptake, after all.
In a way, Origin Bar succeeds. The drink is deeply intense and serpentine in how its components of Tequila, Amaro Lucano, sherry, and cherry liqueur mix. While I am usually partial to crazy complexity, I thought the taste notes needed clearer articulation.
Other than the opener, Origin Bar also endeavours to start everything off with a big bang, as you can tell from the addictive complimentary snack of Smoked Nuts that arrived with aplomb.
The lid is unscrewed to let out a barrage of smoke and that gives way to a welcoming sight of a rugged nut array — this was a remarkably intoxicating snack, brimming with Indian-inspired spice notes and smoky goodness.
Moving further down the timeline to 1932, Origin Bar's Play Well ($25) was a standout. Riffing on the Old Fashioned is a seemingly inexorable rite of passage for most cocktail bars but I think this is one of the deftest modifications I've seen.
Inspired by Lego, it exhibited an inspired construction of flavours from the ground up, starting with classic notes, then a touch of herbaceous funk, before a splash of acidulated apple caps it off with a rounded depth.
Then a bomb dropped in the form of the Atomico ($25) — elegant at heart with a spirited cast of rum, sake, and yuzu but mesmerisingly amped up with the esoteric spike of wasabi. Absolutely charming drink that left me exultantly cheering.
Origin Bar doesn't shy away from taboo either, the Star Was Porn ($27) is quite the cheeky wink at the birth of the internet… And the true content we know it's mostly abused for.
There's not much extra sass despite the name, basically a Pornstar Martini with more depth and a drier finish to complement the passionfruit. It's the arresting white chocolate lipstick accoutrement that steals the show, really.
As we stop at the year 1964, a smoky Dirty Royal ($26) emerged to pay homage to the most iconic fictional British character. Bond. James Bond.
Needless to say, this was an enhanced Martini and it's a sublime one that sleekly balances between the dry and savoury profiles while an unobtrusive kiss of smoke bolstered both facets enthrallingly.
Designed with a lofty aim, I think Origin Bar's ambitious new menu perfectly encapsulated the adage: "Aim for the moon. If you miss, you may hit a star."
There may be a smidgen of disconnect between each individual drink and the massive big picture of genesis but, in the end, the slew of diverse and creative tipples more than made up for it. This is as solid of a menu as any of the in-vouge classics riff menus.
Make your reservations here.
Origin Bar
Website | Facebook | Instagram
Address: Shangri-La Singapore Tower Wing, Lobby Level, 22 Orange Grove Road, Singapore 258350
Hours: (Tues–Sun) 5:30pm–1am