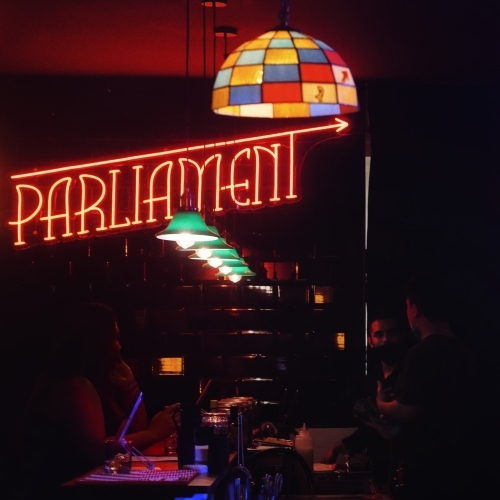 Parliament Brings Groovy Retro American Bar Bustle to Keong Saik
A bar with a name like "Parliament" would probably conjure up mental images of a stately classics bar where a troupe of besuited bartenders were rooted behind the bar while adroitly decanting Martinis into spiffy conical glasses.

Tracing the prevailing bar trends in Singapore, that tried-and-test blueprint of luxury isn't a farfetched guess — which is why the whimsical new Parliament is such a fitting addition to the trendy neighbourhood of Keong Saik.
More dubious than snazzy, the intense red neon glow that blankets its first-floor stairwell entrance gives guidance to finding the surreptitious second-storey speakeasy.
Straight through the door, your vision is aligned with a sprawling collection of bottles behind a bar that makes you think it'll be a swanky but simultaneously rowdy American-style speakeasy in the Employees Only style.
But once you clear the drapes encircling Parliament's entrance, you'd be pleasantly surprised to be drenched in dirty disco-ball-thrown lights and find yourself in the middle of an array of retro booths.
All that's missing is a jukebox but the design principles are clear as a fun recreation of an 80s American suburban dive bar that doesn't take itself too seriously.
So, yes — as sombre as the name suggests, Parliament is a young and vibrant spot built for a fun night out over being a speciality cocktail bar.
Groovy music curated for the best vibes along with whimsical wall ornaments, including a Fender guitar and a wall-mounted deer head, just make it all the more charming.
Simple Drinks That Spare Your Pockets
The beauty of a bar like Parliament isn't in its vivacious lights and pulse-raising music selection but rather in its approach towards its selection of tipples.
With not a single cocktail on their opening menu above $17, this is probably one of the most affordable no-frills bars for a date night.
If you're one of those who envisioned Parliament as a stuffy cocktail bar, you are half right — it actually has a comprehensive classics section on the menu with fifteen different favourites, each at only $15.
But I decided to forgo those and beeline for their rather intriguing, and yet-unnamed, signature creations with the Mango Basil Mezcal ($17) as the opener.
Mezcal is, to me, still one of the most underutilized spirits and Parliament does a good job crafting one of the bar signatures with it.
A super refreshing sipper that slushed about releasing spirited bursts of mango sweetness, while lightly tinged with a harmonious blend of smoke and basil depth.
With loose interpretations of a dive bar setting, I was drawn to the first cocktail on Parliament's menu page — a Salted Plum Gin Sour ($17) that calls back to Singapore's clubbing titan, Zouk.
Only I was slightly misguided since Zouk's iconic shots used sour plum instead. This was rather hit-and-miss, with a decent mouthfeel and bright profile but finished with a slightly funky acidity that I didn't quite enjoy.
So, no, Parliament isn't Singapore's newest fancy cocktail bar. But it's a refreshing change as the speakeasy archetype has been overused to death in recent times.
What you have here are no-bullshit fun times where you can get happily buzzed on drinks that won't burn a hole in your pocket.
Make your reservations at Parliament here.
Parliament
Address:18 Teck Lim Road, #02-00, Singapore 088390
Hours: (Tues–Thurs) 5pm–12am, (Fri–Sat) 4pm–1am