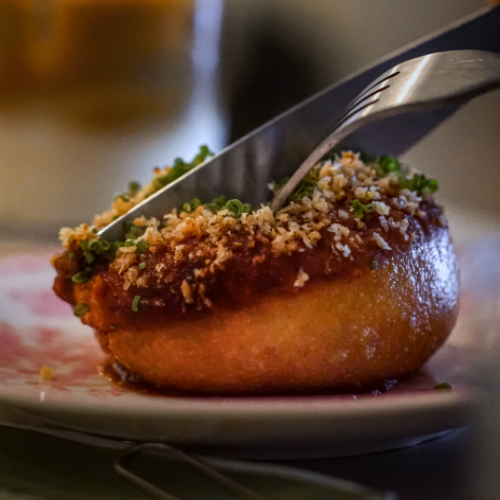 The Sleek Moody Cafe That pulls a wild Card with oxtail donuts and other bold ideas
Almost eligible for the adjective "antiquated", Furama RiverFront is an establishment few would venture to in search of one of Singapore's most exciting new cafes. Yet, here we are — seated at the moody Wild Card, located inside the time-worn hotel.
Alas, the rustic edifice also greatly lends to the charm of this sleek new cafe, a minimalistic delight tastefully jazzed-up with wooden fixtures and retro trinkets that unostentatiously blend in with the raw, grungey industrial surfaces.
Subfusc to the core, Wild Card doesn't quite relate to its name decor-wise. But it's the kind of off-the-beaten-path nook that would serve well as an intimate rendezvous point or a hideout suited to while the hours away with introspection.
Although seeking out the cafe takes a little bit of legwork from your point of exit at Havelock MRT station. But in my view? It's worth the slight inconvenience.
There are few other cafe concepts as secretly ambitious as this. This is born of passion between the folks behind distinguished coffee heroes Maxi Coffee and the maverick chef behind the popular home-based concept, Between Buns.
In times when capturing the jejune imagination of the everyday cafe-hopper is the prudential route to sustainability in Singapore's competitive scene, idiosyncracies —no matter how small— are welcome.
Sure, these are names that won't catch headlines on most occasions. Nonetheless, they are names that would immediately trigger an alarm in the head of any discerning cafe-hopping aficionado — the quality is almost assured.
Maxi-Mise the Minimalism

Two items exist on Wild Card's menu as imperative orders: Namely, the oxtail donut and the iced cereal milk latte ($7.50).
The latter is an instinctive order, a conditioned impulse stemming from tastebuds which have long been smitten by Maxi Coffee's signature. Even at this affiliate, the cuppa remained supremely comforting and blessed with malty richness — never a letdown.
Conversely, the oxtail donut ($12) was less familiar but also the blockbuster item which drew me to visit Wild Card in the first place — stuffing a bomboloni's guts full of braised oxtail was simply too bodacious an idea to pass up.
As fate would have it, the results were just as bewitching as the concept promised. Wild Card's crowning jewel was a decadent spectacle, overflowing with juicy beef richness and propped up with espresso bbq glaze and bone marrow crumbs to achieve a more resounding depth to the umami.
Idiosyncracies aside, the basics were covered just as carefully, embodied by the supple bomboloni that encased the luscious shreds of beef — it was textural bliss to complement the base profile.
My other food item was more conventional but a crucial order too, owing to Chef Ahmir's alter-ego, Between Buns. Though now defunct, the burger-and-sandwich speciality brand commanded so much fanfare that its drops sold out instantly.
The Prawn Sando ($24), centred around a prawn katsu patty bookended by two halves of a fluffy milk bun, seemed textbook but actually received quite a deft bolstering touch from the zingy chilli aioli to contrast against the clean sweetness of the prawn.
As with the donut, Chef Ahmir's handling of textures was similarly immaculate in this burger as the plump and delicate shrimp are supported by the buttress of remoulade, the milk bread, and the crispy katsu crust. It's a promising sign that Wild Card has a knack for textures, handled with more refinement than your usual cafes.
Much like its name suggests, this gem is a bit of a wild card with a slight unorthodoxy in flavour ideas and a choice of location. However, there are many things going for it that will endear it to a larger market, chiefly its moody decor.
Fundamentally though, it excels in the niche it was designed for — this is a wonderful ambience, supported with interesting food and wines, that will no doubt catch the idea of the more discerning "hipsters", for a lack of better word.
Wild Card
Address: 405 Havelock Rd, #01-03 Furama RiverFront, Singapore 169633
Hours: (Wed–Fri) 8am–11pm, (Sat) 9am–11pm, (Sun) 9am–6pm