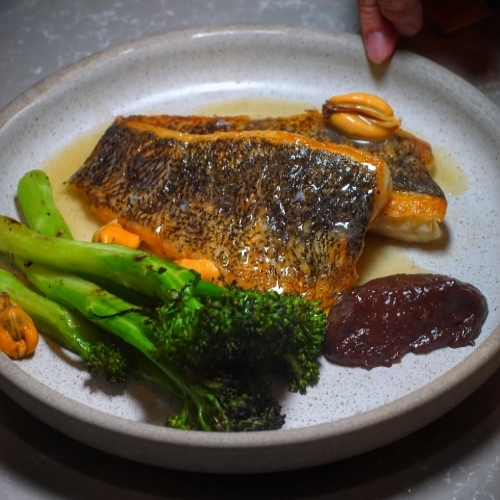 The Revitalised Humpack at Bukit Pasoh is sleek, modish, and a whale of a time
There are certain stalwart restaurants that are articulately representative of the locale. To me, Humpback is one of the most fitting examples — the seafood specialist has had its roots spread far and wide throughout Bukit Pasoh and its vibe was wholly indicative of the area's dining scene.
Years ago, the Bukit Pasoh neighbourhood —and Keong Saik— skewed towards being a trendy enclave for hipster upstarts. There were hidden speakeasies which mandated passwords to enter, trailblazing fine-dining adventures, and many more nostalgic things that were lost to time.
Nowadays, the vicinage has been subjected to gentrification. In a positive way of course — as promising swanky new concepts started calling the area home. An overhaul was on the cards for the charming, but somewhat rustic, Humpback and after a few months of downtime, it faces the public with a new and markedly modish getup.
Humpback has shed off that vibe of being an earnest seafood shack where oysters are king, instead oozing more refinement to fit in with the times — for better or worse, depending on your preferences. The restaurant's metamorphosis is stunning but perhaps requires a shred of patience from loyal fans to reacquaint themselves.
Amidst the suave glow-up though, I'd argue Humpback doesn't betray its roots of conviviality. The Bukit Pasoh darling still feels very much like a casual, unadulterated good time but reinterpreted to fit in with the now demandingly sophisticated landscape of Singapore's culinary paradigm.
The World is Your Oyster
The restaurant's raison d'etere has been steadfast since its conception — it's born of the Jigger & Pony Group co-founder, Indra's, infatuation with fresh oysters.
This means no revamp will put a dent in Humpback's dedication to serving the best oysters in Singapore — that insistence appears indomitable since its selection of Oysters (S$8/pc), while not cheap, was undoubtedly as splendid as ever.
It's basically a Russian roulette of euphoria when selecting your oysters since each variety boasts its own impressive virtues.
From the triad of oysters, the favourite was indubitably the Hama Hama — clean, crisp, slightly botanical, and an overall creamy delight. Basically, top-drawer oysters that even some oyster-averse folks can appreciate.
While oysters are the most quintessential seafood classic, Humpback also posits certain more enthralling ideas on the menu such as the House-Cured Hamachi Pastrami (S$18).
Pastrami derived from Hamachi isn't quite conventional but this starter was deftly cured to a soft and buttery texture, while also fabulously enhanced with a kiss of applewood smoke.
Its follow-up, a rambunctiously flavoursome Mussel Toast with Nduja (S$16/2pcs), then proceeded to steal the show through its complex and hard-hitting profile.
It was the most exuberant symphony of flavour notes that magnificently transitioned between the nduja umami, intoxicating smoke, and a mesmerising twang stemming from chives and vinegar gel.
One criterion I often use to gauge a restaurant is its humble bread course and for that, Humpback does an astonishing job.
Simple sourdough heartiness in earnest, boasting a crusty toasted Buckwheat Rye Bread (S$13) and paired with moreish yuzu whipped butter — what's not to be infatuated by?
Elegant Waves of flavour
In contrast with the oomph from the starters, Humpback's larger plates presented themselves more elegantly in flavours and presented more delicate layering. One prime example of that was the White Asparagus with Blue Crab and Miso (S$25).
A clean-tasting crab salad at its core, this dish featured shreds of clean crab that were enlivened with a twinge of horseradish sharpness. Similarly, the tender white asparagus was also contrasted by the luscious crustacean.
In fact, the Red Prawn Tartare with Tosazu Jelly and Pomelo (S$25) exemplifies that finesse by borrowing the gentle richness of tomato and celery to accentuate the natural sweetness of the red scampi.
Similarly, Humpback's lightly crisp Marble Gobi (S$52) focused more on the intrinsic quality of the produce, lacquered in a mellow mussels-sake sauce for more layers with a sweet black garlic sauce at the side for those who crave a bit more punch.
Be that as it may, Humpback's repertoire isn't restricted to sophisticated weaving of flavours as exhibited by its Ricotta Cavatelli (S$28) the sole pasta offering on its menu.
Perhaps not quite a Cacio e Pepe-type umami heavyweight but it carries plenty of charming spice notes and is handsomely bolstered with smoke from a smattering of swordfish belly bacon.
Strong savoury dessert options might just be a rare unicorn, at least in Singapore, but Humpback smashed that trend with its Toasted Castella Cake (S$16), an offbeat dessert imbued with salinity and boasted almost salted caramel-esque top notes.
As far as revamps come, Humpback's felt like a natural progression that matched the snazzier ambience that now pervades Keong Saik and Bukit Pasoh.
Regardless of any glitz though, its medley of strong seafood dishes and some of the most sumptuous oysters around will continue to endear it to connoisseurs who take their seafood seriously.
Make your reservations here.
Humpback
Website | Facebook | Instagram
Address: 18-20 Bukit Pasoh Rd, Singapore 089834
Hours: (Mon, Wed–Fri) 5pm–11pm, (Sat) 12pm–11pm. (Sun) 12pm–9pm