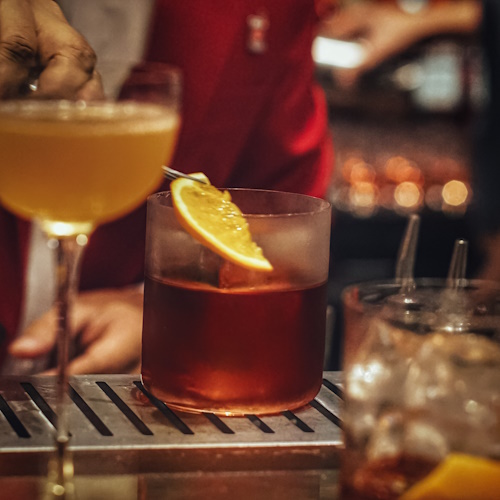 Where to get the best Negroni in Singapore to sip on, in celebration of Negroni Week
A stream of Campari speedily rushed groundwards, sizzling with a light splash as a partly-filled mixing tin caught its fall. That final pour was then swiftly followed by a clattering hail of ice cubes before the gentle prodding of a metal swizzle stick into the container.
The bartender's wrist gyrates, moving the stirrer with graceful fluidity. After a measured number of turns, a strainer is popped on to guide the flow of the strikingly florid concoction into a rock glass — at last, a serving of Negroni.
For many drinkers, this bodacious Italian classic is, without a shadow of a doubt, one of the biggest libation icons of the past century.
Made with the holy trinity of gin, sweet vermouth, and Campari, it's a sipper that has smitten many with its suave marriage of sweet and dry, elegantly delivered to the gullet with silky charm.
In homage to the tipple, bars around the world set aside a week every year in September, as they celebrate Negroni Week. Hence, as a zealous aficionado, it only felt right that I had to cobble together a list of the best Negronis in Singapore.
A Perfect Classic at Shin Gi Tai
It is dogma that every zealot in Singapore has to make a pilgrimage to Shin Gi Tai for their Negroni, masterfully blended with utmost finesse by scene legend Anthony Zhong. The secret is in the house-blended vermouth blend which enforces a captivating balance between the triad, as the profile progresses with clear articulation from the start of the sip to the finish.
Address: 179a Telok Ayer St, #2nd Floor, Singapore 068627
Hours: (Mon–Fri) 6pm–12am
Mezcal Negroni at Foxtail
While the concoction traditionally calls for botanical gins, the Mezcal Negroni has been a rising cult favourite, perhaps even leapfrogging the Boulevardier. Keong-Saik darling Foxtail's rendition is an unimitable one which features artisan Mezcal and an intense rhubarb-tinged aperitif, giving it complexity and subtle smoky swagger agave lovers would be besotted with.
Make your reservations here.
Address: 1 Keong Saik Rd., #02-01, Singapore 089109
Hours: (Tues–Sat) 4pm–12am
As a one-man show headed by Chii-San, a seasoned Japanese virtuoso, the exceedingly refined Negroni "Diablo" here is a rare contender that can match up to Shin Gi Tai's exemplary take. Unlike the punctilious presentation from the other though, this possesses more visual verve as it's finished off with a charcoal-black gin float.
Make your reservations here.
Website | Instagram | Facebook
Address: 29 Scotts Rd, Singapore 228224
Hours: (Mon–Sat) 6pm–1am
Sugarhall probably has one of the best unorthodox Negronis in Singapore. Here, their interpretation contains olive brine, seemingly bridging Negronis and Dirty Martinis. However, as jarring as it may sound — it works. The robust olive umami blends seamlessly with the Campari and helps soothe over much of that cloying herbaceousness many detest, while also adding a creamier mouthfeel to the drink. Oh, it's also only $15 for happy hour too!
Make your reservations here.
Website | Instagram | Facebook
Address: 19 Cecil St, Level 2, Singapore 049704
Hours: (Mon–Thurs) 5:30pm–12am, (Fri–Sat) 5:30pm–2am
Jigger & Pony's Negroni is probably one of the most uninspired picks for this list — it's well-established how adroit the bartenders at the Asia No. 2 Bar are with classics. There are no bells and whistles to this, just the most delightfully classic rendition with the dilution spot-on and the balance respectfully rejigged for the modern palate.
Make your reservations here.
Address: 165 Tg Pagar Rd, Amara Hotel, Singapore 088539
Hours: (Sun–Tues) 6pm–12am, (Wed–Thurs) 6pm–1am, (Fri–Sat) 6pm–2am
Sweet Potato Riff at SSAL
Just opened in August, the nascent Ssal has won me over with its intimate approach to Korean influences in its libations. In particular, the sweet-potato-forward Goguma was a runaway hit, loosely taking form based on the Negroni blueprint. Instead, the intoxicating drink is assembled using soju, roasted sweet potato, and Cynar, which emulates the earthiness of Campari.
Make your reservations here.
Address: 98 Club Street, Basement, Singapore 069467

Hours: (Tues–Sat) 6pm–12am
Operating on a disparate notion of what mixology should be like, Analogue Initiative is a bar that lives to push the envelope. Built on that avant-garde approach, Analogue's Negroni is a one-of-a-kind riff which incorporates Campari distillate and reduction, meant to tame the sweetness along with the substitute of dry vermouth. The result? A heavy-hitting sipper that almost tastes like it uses navy-strength gin — but less potently spirit-forward.
Make your reservations here.
Website | Instagram | Facebook
Address: 30 Victoria St, #01-31 Chijmes, Singapore 187996
Hours: (Mon–Sun) 5pm–12am
Solera-Aged Special at Manhattan
Do yourself a favour and ignore the signature namesake tipple for once when you're at Manhattan, because you need to savour Manhattan's dashingly complex Solera-Aged Negroni. The bar ages the tipple in-house, utilising an elaborate cask system that imbues the base with profound depth and even more nuances after six long weeks.
Make your reservations here.
Website | Instagram | Facebook
Address: 1 Cuscaden Rd, Level 2 Conrad Orchard, Singapore 249715
Hours: (Tues–Thurs) 5pm–12am, (Fri–Sat) 5pm–1am, (Sun) 12pm–3pm
Yes, you didn't read that wrong. My recommendation from the Neil Road mavericks is christined the Notanegroni. As the name suggests, The Store's Frankenstein's monster is both Negroni but also not. Swapping out the ubiquitous for umeshu, the irreverent spin deviates significantly from the classic, yet gains a unique and pleasant plum-tinged levity to soften the rest of the profile.
Make your reservations here.
Website | Instagram | Facebook
Address: 11 Neil Rd, Singapore 088809
Hours: (Tues–Sat) 4pm–12am
DIY with the Gin Library at Atlas
The palatial Atlas Bar isn't just good for one style of Negroni. After all, the towering gin library here hosts the biggest collection of gin in Asia, which means infinite possibilities for tweaking the gin-based tipple. Personally, I found the captivatingly spice-forward navy strength gin from Perry's Tot the standout with its extra oomph.
Make your reservationshere.
Website | Instagram | Facebook
Address: 600 North Bridge Rd, Parkview Square, 188778
Hours: (Tues–Thurs) 12pm–12am, (Fri–Sat) 12pm–2am
For more indulgent foods to hunt for, check out my guide for the juiciest artisan burgers in Singapore and also where to get the most satisfying kaya toast that isn't yakun.