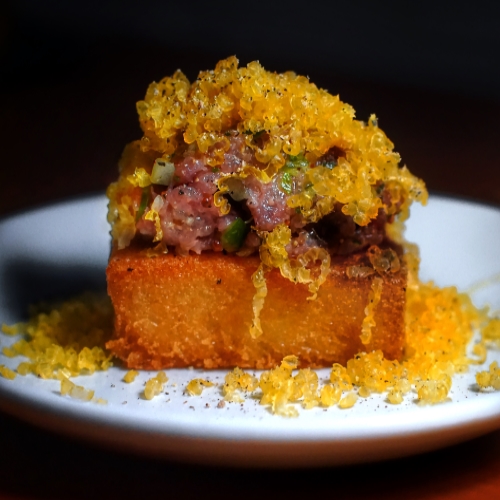 NOST: Find quirky fusion flavours and a cosy respite at Ann Siang Hill's hidden apartment-like Gastrobar
The best way to describe NOST at Ann Siang Hill: It's the perfect home-dining experience not found in a home. As conflicting as it sounds, the fledgling concept is a gastrobar that melds informality and refinement together remarkably.
Juxtaposed against its fellow tenants located at the busiest corner of the vicinage, NOST is easy to miss.
After all, the establishment has made itself at home on the third floor of the shophouse that also houses the buzzy Lowtide, sequestered in the most clandestine space, with only the scantest hints at its existence.
However, that's not a slight to it, far from it. Removed from the raucous crowds pervading the street, NOST exudes a air of warmth and cosiness — almost close to a feeling of friends-only exclusivity.
That's further exemplified by its space, a slightly idiosyncratic setup flush with plush couches, an eye-catching communal table as its centrepiece, and a flurry of houseplants, and quirky trinkets to give it the familiar feeling of a living room.
All the action is contained within a cramped open-kitchen enclosure, where Chef-Owner Erik works his magic as if cooking for a group of friends.
At the same time, co-owner Jin toils away with his shakers, stirrers, and other shiny bartending apparatus, ferociously banging out drink after drink to enliven the party.
A sleight of Ingenuity

Featuring less than ten items, the concise menu shows a more concentrated approach. This translates to more refined dishes that articulately showcase the team's culinary ethos — one focused on a quirky style of fusion punctuated with tasteful Asian influences.
While creative NOST's menu also contains more classic creations, such as the One-Sided Beef ($7) — a simple but well-done beef tartare, featuring a crispy toast made with bread from a local heritage bakery adorned with luscious tartare and paired with cured egg yolk.

Sleights of ingenuity can be peeped from other parts of the menu, best exemplified by the Gyarados ($18), a (Cantonese-inspired) fish dish deconstruction given enthralling new presentation.
It features soft cured red snapper swimming in a pool of said Chinese soya sauce reduction, prawn essence, tumeric oil, and lemongrass cream. In tandem with the motley of nostalgic flavours, the red snapper levels up and evolves, acquiring a silkier and more delightful mouthfeel.
On the other hand, NOST's cocktail menu comprises a motley of classics and a suite of intriguing original creations, some of which spotlight unconventional components.
For example, the Good Crop, Bad Crop ($20) is a highball-esque tipple that's heartily enriched with Mugicha. Imbued with roasted barley tea, the Korean-inspired concoction wasn't only refreshing, but also satisfyingly wholesome due to its malty nuances.
There's also the Carrot Boy ($23) —combining Mezcal, ginger, carrot, agave, lime and soda— that will charm imbibers who enjoy agave spirits, which has taken the limelight in our bar scene recently.
Slightly sweet but still containing a furtive booziness, the drink is pleasant and easy to drink but armed with that distinct agave bite that added to its robustness.
Focusing only on their strengths and not trying to buy into trends, I think the NOST team has actually created one of the most charming new additions to the Ann Siang Hill food scene.
With creative flavours —both food and drinks— and a remarkably intimate space, it's a spot to watch out for, especially for anyone seeking a little more quirkiness and conviviality.
Make your reservations here.
NOST
Website | Facebook | Instagram
Address: 98 Club St, Level 3, Singapore 069467
Hours: (Tues–Sat) 5:30am–12pm