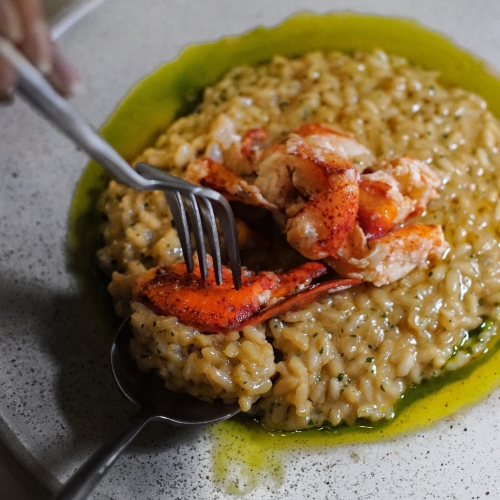 geek out on an extensive curation loaded into Vin Geek's Ingenious Wine Dispenser
There's an image that has been attributed to wine bars over the decades. It's one that's stuffy, it's inaccessible, and it's opulent. But there's currently a renewed struggle to escape from that culture as more and more new concepts like Vin Geek are joining in to fight the good fight.
What differentiates Vin Geek from the other edgy modern wine bars of Singapore though is a unique wine dispenser, giving everyone an opportunity to sample portions of fine wine without footing the exorbitant bill that comes with a whole bottle.
That conviction for a casual, for-the-masses establishment is immediately apparent as you step into the Pacific Plaza space. It's a clean white with homely touches and spunky neon fixtures and is a far cry from the starched white linen settings of the archetypal wine-focused French bistro.
But Vin Geek is, at its heart, not purely a wine bar but also a space made to cater to wine lovers' myriad needs. On one side, is a small bistro stocked up with an assortment of wines, spirits, pairing nibbles, and accessories while the other side hosted the main dining area.
Through the Grape Vin
The news through the grapevine is quite interesting — the owner has familiarity with the wine import sector so this concept was him putting his nous to work in an easily accessible consumer setting.
And it seems like that's led to some unique innovations. If there's one thing drinkers love, it's variety. While most restaurants stifle their curation of by-the-glass wines to just a handful, Vin Geek loads up a myriad of adult grape juice into an impressive wine dispenser contraption.
There are a whopping twenty-four labels deposited into the machine, making deliberating an even more gruelling process — the range is huge, with affordable Rieslings and Cabernet Sauvignons on one end as well as slightly pricier aged vintages like 2015 Tignanellos to cater to keener palates.
It's also really simple to pour yourself a glass with a quick scan of the QR code for fast convenient online checkout, with prices ranging from around $10 to even $60 for a 150ml full pour. Those with an inclination for trying as many varieties as possible are also given the choice of smaller sampling portions of 30ml and 90ml.
The Sideshow
Most people need some nibbles by the side before they can dive into an imbibing session and Vin Geek's food menu is well-designed and mostly features simple, timeless dishes that pair without a hitch.
As most are well aware, salad and cheeses are some of wine's greatest partners-in-crime so a safe opener would be to get the Burrata ($28) salad with 125g of creamy dairy bliss, finished with some arugula, cherry tomatoes and a drizzle of balsamic.
Though a heartier, carb-endowed choice of Lobster Risotto ($30) might be more suitable as the main event of a casual dinner date. Vin Geek's risotto was sufficiently silky and seasoned till piquant and rich, all capped off with voluptuous scraps of lobster for good measure.
Probably a stronger seafood option than the Scallop & Endive ($25) which was solid but a little undergone or the Octopus ($28), which had decent bouts of smokiness while not being outstandingly tender either.

More of Vin Geek's classic French discipline can be found in their instead sharing plates instead, starting with the succulent strip of Pork Loin ($28). A great blend of umami and sweetness, especially accentuated by the mango chutney at the side.
The Flat Steak ($50/200g) actually first arrived with some inconsistency in the doneness but it was eventually rectified after the kitchen rectified it. Perhaps I still consider the final result a tad below medium rare but the leaner cut did manage to show off its plush textures.
Given the price point though, and my general rule of thumb to stick to steakhouses, I think the pork loin might be the more satisfying and wallet-friendly sharing plate. That said, the broccolini at the side was so crunchy and gushed with juices and I am a colossal sucker for well-grilled stalk veggies.
Vin Geek is first and foremost a wine lover's sanctuary so having a dependable range of classic flavours is definitely a plus, considering many of our swanky natural wine bars stray towards the bolder side of fusion cuisine.
Ultimately, if you're here at Pacific Plazza, it's to pick out a few tasters from that staggering litany of labels. Everything is streamlined here — it's an easy and fuss-free experience, even for any curious passers-by in the daunting world of wines.
Make your reservations here or shop their online selection here.
Vin Geek
Website | Facebook | Instagram
Address: 9 Scotts Rd, #01-04/05/06/07 Pacific Plaza, Singapore 228210
Hours: (Mon–Sun) 11:30am–10pm
*This was an invited tasting.