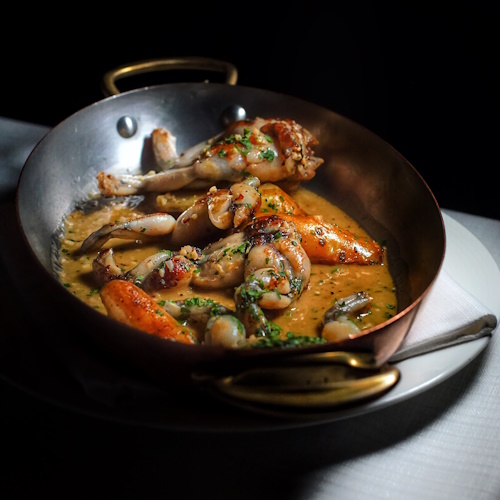 Brasero and Florería Atlántico Singapore pop-up exudes the plushest Argentinian warmth
The taste of Argentina is something inherently nebulous to Singaporeans. Notwithstanding our flourishing restaurant ecosystem, usually dedicated to cuisines such as Japanese or Italian, the vibrant flavours of Argentina are harrowingly under-represented. For the curious, however, there's no better time to explore this slice of Latin American culture than at the Brasero and Floreria Atlantico pop-up at Four Seasons Singapore.
Combining the nous of two luminaries, Renato Giovannoni and Alex Resnik, the Brasero and Floreria Atlantico pop-up is an ephemeral dining experience meant to only run for three months. Inquisitive gourmands will have until the end of October to relish the hearty flavours marshalled by the duo.
The former, more endearingly referred to as "Tato", is a bartender born and raised in Argentina with career highlights of founding the much-lauded Floreria Atlantico in 2013, as well as being voted as "The Bartenders' Bartender" for 2020's edition of World's 50 Best Bars.
The other half of the duo, the larger-than-life Alex Resnik is a deeply respected statesman who was intimately involved in the running of legendary steakhouse, CUT by Wolfgang Puck. Together, they form a dynamic duo who's on top of their game with this exclusive pop-up concept.
Borrowing the space of Four Season Singapore's swanky in-house concepts, One-Ninety Bar and One-Ninety Restaurant, the project features an array of tipples and dishes meant to capture the intricacies and idiosyncracies of Argentina — all compressed into one menu, available both a la carte or as a six-course chef's table affair.
Brasero's Argentinian Comfort
Brasero doesn't rush or overcomplicate and you're given time to ruminate before the grandiose mains are served. However, the prelude doesn't skimp on richness either, running the gamut of unostentatious but satisfying dishes that range from the Argentinian staple of Empanada ($15) to more esoteric items such as Veal Tongue "Pampa Style" ($28).
In the midst of it all though, they actually impressed with the unassuming bread, which is served with accoutrements such as sumptuous butter and, most memorably, destructively umami anchovies.
Taking the spotlight amongst a flurry of eye-catching dishes though, at least to me, was the Octopus Confit ($42). There's no denying it's simple at its core but the simplicity is what imparts it that lustre if anything, as the 4-hour slow-cooking jumps straight at you as you chew down.
In a moment of departure from the grilled octopus dishes most know and love, Brasero's slow cooking renders the octopus leg immensely soft while maintaining a bouncy integrity. More importantly, dousing it in cinnamon plus coconut and olive oil and finishing with a heap of orange peel gives it a crisp, citrus-perfumed profile that feels all too refreshing.
When at an Argentinian restaurant, a kingly steak is almost a foregone expectation. Brasero's Argentinian DNA meant those expectations were handsomely rewarded with a majestic Ribeye ($68/350g), presented whole but stripped tableside to reveal rubescent insides.
Beautifully grilled, the succulent beef comes simple and rich but gussied up with a kiss of smoke — a supremely classic Argentinian steak with no glaring flaws fit for complaints and also partners indelibly well with the earthy chimichurri sauce. All around good value for $68, compared to other premium steaks.
Eventually, the meal comes to a standstill when the Frog Legs "A la Provenzal" ($38) are given the due attention they deserve — one would be prone to forget the rest of the meal upon their first bite of this stupendously delectable highlight.
Strangely enough, this dish's provenance is less South American and more European: specifically, "a la provenzal" refers to a preparation style built around herbs found in the Southern-France region of Provence.
Few words afford justice to the texture of Brasero's frog legs, each morsel euphorically tender but also sporting an impossibly light gelatinous softness. Everything comes together immaculately with the addition of subtly wine-tinged garlic-butter sauce, accentuated with lashings of fragrant herbs.
Floreria Atlantico's Creative Tipples
Considering the timeless quality and simple heart that lords over Brasero's exuberant gastronomical identity, its mixological counterpart from Tato proffered a more dauntless homage to South American heritage.
For one, Floreria Atlantico's aperitivo of Algo Rojo ($26) amalgamates cherry fernet, Maraschino, and pink grapefruit soda in a bid to emulate Argentina's beloved Fernet Coke. The highball-style tipple flaunts more refreshing dimensions while retaining the funky nuances more familiar to fernet enthusiasts — a great way to get the ball rolling for a heavy dinner.
At the heart of it all though, if there's a drink that would mark Brasero's Singapore pop-up experience, it would be the flamboyantly presented El Dorado ($29). Not indifferent to the previous concoction, Flreria Atlantico uses this drink to showcase another salient South-American ingredient: maté.
Undoubtedly a grower, the drink weaves in and out through bouts of fruitiness, savoury twang, and of course, herbaceous depth. Its profile is beguilingly zany —almost likely to be an acquired taste for local plates— as it's made from a refreshing housemade maté tea, Brazil's iconic cachaça, and a potpourri of sprightly tropical fruits.
All in all, considering that authentic Argentinian flavours are not the most readily accessible in Singapore, the Brasero and Floreria Atlantico pop-up offers something unique: a wonderful snapshot into the lush, vibrant warmth of Argentinian cuisine.
While I don't foresee any dish —save for the astonishingly good frog legs— genuinely blowing the minds of most guests, it genuinely feels like a home run, where quality is evident, value is discernible, and hospitality is unforgettable. Muy bien.
Make your reservations here.
(Pop-up until 31 Oct 2023) Brasero and Floreria Atlantico at One-Ninety Restaurant
Website | Facebook | Instagram
Address: Four Seasons Hotel, 190 Orchard Blvd, Singapore 248646
Hours (Brasero Atlantico): 6pm–10:30pm
Hours (Flreria Atlantico): 5:30pm–12am
*This was an invited tasting.