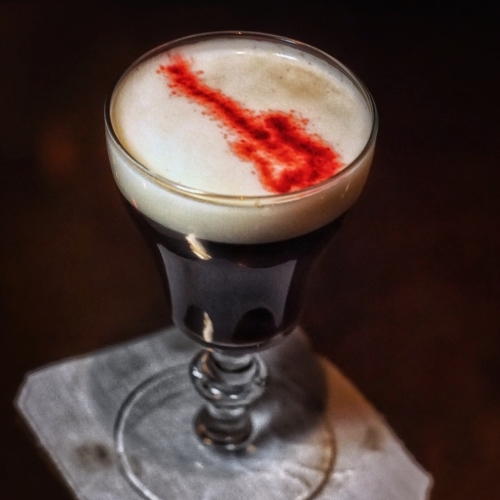 Republic Bar's brand of Mixology Playfully Flirts with Nostalgia
An amble through the stately corridors of The Ritz Carlton's ground floor is quite the voyage. Coming in from the West Wing, you're greeted first by the venerated two Michelin-star Summer Pavillion, then the eternal favourite of Colony, before you stand face to face with the grandiose new concept, the one-year-old Republic Bar.

Spanning the entirety of the capacious East Wing, Republic Bar presents itself as quite the modish outfit, alternating between two varying tenors.
A dignified exterior lounge, dominated by majestic chandeliers and a soft muted palate, is juxtaposed against a glitzy bar, imbued with suave crimsons while centred around a tree towering authoritatively over its spirit library.
Like many of its hotel bar compatriots, Republic Bar feels like a homage to the heydays, like a love letter to heritage. Even amidst modern sensibilities, the limerence for the swinging 60s is the most dominant.
Yes, it feels slightly "old-fashioned" but in an updated, novel way. As it should — since a renewed zeal for the nostalgic has long infiltrated the zeitgeist.
More importantly, it's their ability to distil that retro fetishism into mixological terms that makes Republic Bar so charming. So much so that it earned them a lofty debut as Asia's No. 12 Best Bar for 2022.
Old School Cool
However, that is not to say Republic Bar is entrenched in a sycophant mentality — that reverence for the good old days does not translate into a pertinacity for time-honoured classic recipes.
Instead, it pays tribute by meticulously weaving facets of heritage, from 60s Singapore, UK, USA, and Italy, into elevated riffs that respectfully and deftly toe the line.
The best testament to that mixological tenet is Republic Bar's spellbinding Ramos Gin Fizz alter ego, the Milk Bar ($25 with Gin or Rum). While bearing an uncanny resemblance to the classic, it's also evidently different.
Instead of orange blossom water and tonic, the palate is met with twangy Yakult and treacly ice cream soda fizz, imitating the profile with comforting childhood flavours. Above all, it's coated in the same plush creamy luxury that a well-made Ramos should have.
Although hyper-localised twists on classics sound like a cheat code in Singapore, Republic Bar's range is demonstrably wider than that, strongly exemplified by the Satisfaction ($25).
According to a coffee-cocktail specialist, this Irish Coffee riff might be the best in Singapore. As with most good twists, this was made inelaborate but also confidently incorporated stout reduction, giving rise to a supremely smooth coffee drink that felt endearingly faithful to its Irish roots.
Another standout from the Italian purlieus of Republic Bar's menu was a less eccentric facelift, the Miura ($25), almost like a love child between a Pisco Sour and a Mezcal Last Word.
Building it on a bodacious triad of Mezcal, Pisco, and Yellow Chartreuse bestowed oodles of complexity where the profile was anchored by a sexy depth and alternated between sweet, piquant, and smoky.
The Savouries
Bloody Mary connoisseurs would also be partial to the Big Boy ($25 with Mezcal or Vodka) which was huge in tomato richness and given enlivening spice undertones.
Most enchantingly, Republic Bar's Mezcal choice even tweaks the flavour in a way reminiscent of classic childhood Twisties snacks.
Republic Bar's idiosyncracies extend beyond just their drinks menu too, as that whimsicality in experimentation was also evident in a sweets menu populated by creations such as Chilled Gianduja Risotto ($16).
"Risotto" belongs quite far down the list of dishes that should be desserts but be rest assured, this was less Risotto and more like a decadent chocolate pudding, inundated with the nutty oomph of crystalised hazelnuts and Frangelico Liqueur.
There's no doubt that Republic Bar is besotted with the 60s and there's nothing wrong with that. Not when they present an impossibly chic and modern repackaging of nostalgia, ready to intoxicate with mischievous nods to the past.
It's not a bar to rock the boat with cutting-edge mixology and it doesn't need to be — simple creativity and finesse in execution already make it a home run.
Make your reservations at Republic Bar here.
Republic Bar
Website | Facebook | Instagram
Address: 7 Raffles Ave, Singapore 039799
Hours: (Mon–Thurs) 12pm–12am, (Fri–Sat) 12pm–1am, (Sun) 12pm–10pm